Peppermint creams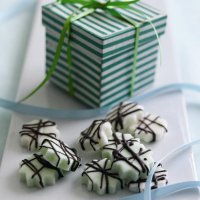 Sweet treats for others or for yourself!
Preparation: 20 mins
Serves: 20
What you need:
115g (4oz) icing sugar, sifted
55g (2oz) Carnation Condensed Milk
Natural peppermint extract, to taste
edible glitter
25g (1oz) plain chocolate, melted
What you do:
Gradually mix icing sugar into the condensed milk. Add peppermint extract
Knead until smooth and firm. Roll out to 5mm (1/2") thickness and cut into rounds with a small cutter. Leave in a cool place to dry
Decorate the peppermint creams with the melted chocolate by drizzling over in lines or dip into the melted chocolate to coat one half. Allow to set and store in an airtight container
This page can be found at: http://secretsauce.co.uk/cakes-desserts/christmas-recipes/peppermint-creams/
A short link can also be used: http://bit.ly/gWKGGL
Nestlé Carnation

Do you long to make beautiful, delicious puddings to impress your friends and family but lack the time and confidence? Well, help is at hand! The
Carnation
range of products is the short and deliciously sweet route to dessert heaven…
More from Nestlé Carnation

This quick-setting light textured cheesecake is the perfect answer to an alternative to the richness of Christmas pudding...

Creamy and delicious, these rum and raisin brulees are the creme de la creme of desserts - perfect as an alternative for Christmas pudding!

These mini desserts are perfect to serve up for a dinner party - what could be better than individual version of banoffee pies?
Popular in christmas recipes

This simple Christmas cake recipe makes a moist, delicious cake with a wonderful mixture of rich and fragrant tea-soaked fruits

The longer you soak the fruit for these Christmas cakes, the better the flavour will be. Then make the cake a few days before for a moisty gorgeous spongy texture. Heavenly!

This is a great way to finish off Christmas cake or as an alternative to Christmas pudding.