Christmas cake & brandy parfait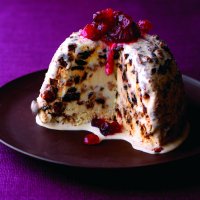 Make this delicious Christmas cake and brandy parfait in just 15 minutes and then put it in the freezer overnight. Easy!

Serves: 6-8
Preparation time: 15 minutes
Freezing time: overnight
What you need:
397g can Carnation condensed milk
450 ml (3/4 pt) single cream
200 ml carton crème fraiche
1 tbsp vanilla extract
3 tbsp brandy
450g (1 Ib) Christmas cake, crumbled
Cranberry compote to finish (optional)
What you do:
Line a 900g (2 Ib) pudding basin with a double layer of cling film.
In a large bowl, whisk together the condensed milk, cream, crème fraiche, vanilla extract and brandy until smooth and creamy.
Pour the mixture into a shallow plastic box and freeze until slushy (2-3 hours).
Beat with a fork, and then stir in the crumbled Christmas cake.
Pour into the pudding basin, cover and freeze overnight.
When ready serve, turn out the parfait onto a serving plate and remove the cling film.
Accompany with a spoonful of cranberry compote: fresh cranberries simmered until sticky in a syrup of sugar and water.
This page can be found at: http://secretsauce.co.uk/cakes-desserts/christmas-recipes/christmas-cake-and-brandy-parfait/
A short link can also be used: http://bit.ly/gzxpsg
Nestlé Carnation

Do you long to make beautiful, delicious puddings to impress your friends and family but lack the time and confidence? Well, help is at hand! The
Carnation
range of products is the short and deliciously sweet route to dessert heaven…
More from Nestlé Carnation

This quick-setting light textured cheesecake is the perfect answer to an alternative to the richness of Christmas pudding...

Creamy and delicious, these rum and raisin brulees are the creme de la creme of desserts - perfect as an alternative for Christmas pudding!

These mini desserts are perfect to serve up for a dinner party - what could be better than individual version of banoffee pies?
Popular in christmas recipes

This simple Christmas cake recipe makes a moist, delicious cake with a wonderful mixture of rich and fragrant tea-soaked fruits

Nothing says you care like a homemade present - and these Florentines are perfect

The longer you soak the fruit for these Christmas cakes, the better the flavour will be. Then make the cake a few days before for a moisty gorgeous spongy texture. Heavenly!