Strawberry, ricotta & lemon thyme cheesecake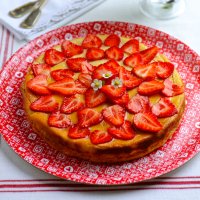 This recipe is much easier than a traditional cheesecake which is likely to have biscuit crumbs at the bottom. Ricotta is a simple whey cheese and mascarpone is a cream cheese, both can be found in tubs in the cheese counter of most supermarkets, and the combination of the two makes this cheesecake creamy and rich. If you cannot find thyme flowers then just add the leaves
Preparation: 25 mins
Cooking: 60 mins
Serves: 6
What you need:
500g ricotta cheese
250g mascarpone cheese
150g icing sugar
4 free range large eggs
Finely grated zest of 1 lemon
4 tbsp candied peel
A handful of thyme flowers and leaves, chopped
200g Sweet Eve strawberries
Icing sugar for sifting
What you do:
Pre-heat the oven to 170°C. Butter and line a 23cm cake tin with baking parchment.
Place the ricotta and mascarpone in a large bowl, sift in the icing sugar and beat well. Add the eggs, one by one, and beat well.
Add the lemon zest, the candied peel and the chopped thyme flowers and leaves and mix well. Pour the cheesecake mixture into the prepared cake tin and bake on the middle shelf of the oven for about 1 hour. The cheesecake should be firm when ready. Cool on a wire rack.
Hull and slice the Sweet Eve strawberries, and when the cheesecake is ready arrange them in a spiral on the top. Sift icing sugar on top and serve.
This page can be found at: http://secretsauce.co.uk/cakes-desserts/cheesecake-recipes/strawberry-ricotta-and-lemon-thyme-cheesecake/
A short link can also be used: http://bit.ly/PiN54G
Sweet Eve Strawberries

Sweet, juicy and plump, British strawberries are undeniably the taste of a good summer. Sweet Eve is a new variety of British strawberry. Packed with sweetness and flavour Sweet Eve is in season from June until October and it tastes like strawberries used to taste.
More from Sweet Eve Strawberries

Sophie says: 'I love making this as a celebration cake for special occasion - the layers of meringue with the fruit in between look very pretty.'

When it gets a bit wintry nothing beats a great crumble for dessert - it's sweet, crunchy and with a dribble of custard, perfect!

Strawberries, cream and a dash of cinnamon - the perfect pudding combination.
Popular in cheesecake recipes

This strawberry cheesecake makes your mouth water just at the sight of it - so it's not too much of a stretch to imagine how much your tastebuds will like this too!

A delicious minty cheesecake perfect for a dinner party or a tasty treat!

These no-bake cheesecakes are made even easier because the melted white chocolate provides all the sweetness for the cream cheese so no need for extra sugar.