Low-fat vanilla & raspberry cheesecakes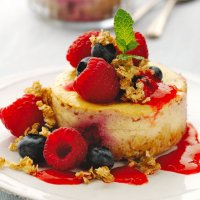 This delicious treat includes two of your five-a-day plus one serving of wholegrain per person.
Preparation: 10 mins
Cooking: 40 mins
Serves: 4
What you need:
3 medium eggs, beaten
1 tsp vanilla extract
250g pot fat-free soft cheese e.g. Quark
170g tub fat-free Greek yoghurt e.g. Total
2 tbsp clear honey
400g raspberries
75g jumbo oats, + 2 tbsp
25g low-fat spread, melted e.g. Flora Light
300g fresh berries to serve
What you do:
Preheat the oven to 180oC, gas mark 4. Grease 4 x 200ml ramekins.
Whisk together the eggs, vanilla, soft cheese, yoghurt and honey. Stir in 100g raspberries.
Dry fry all the oats in a pan then reserve the 2 tbsp. Mix together the remaining 75g oats and low-fat spread and press into the base of the ramekins. Pour the cheese mixture on top.
Bake for 40 minutes until golden and firm to touch. Allow to cool before removing from the ramekins.
Meanwhile, slowly cook the remaining 300g raspberries in a pan with with 3 tbsp water for 5 minutes, then puree for a smooth coulis. This can be done in a blender or with a hand blender.
Serve the coulis with the cheesecakes sprinkled with the reserved toasted oats and fresh berries.
Cook's tip:
Add a little cinnamon to the oats for extra spice or replace the raspberries with blueberries.
This page can be found at: http://secretsauce.co.uk/cakes-desserts/cheesecake-recipes/low-fat-vanilla-and-raspberry-cheesecakes/
A short link can also be used: http://bit.ly/1eMSb8S
All about oats

All About Oats is an independent campaign which aims to raise awareness of the health benefits and versatility of oats.
More from All about oats

Try using this stuffing mix to fill the cavity of whole chickens before roasting - it's perfect for Christmas turkey too

Oats aren't just for breakfast and make great toppings for meat or oily fish

A nutritious, warming breakfast to keep you going for the morning.
Popular in cheesecake recipes

This strawberry cheesecake makes your mouth water just at the sight of it - so it's not too much of a stretch to imagine how much your tastebuds will like this too!

A delicious minty cheesecake perfect for a dinner party or a tasty treat!

These no-bake cheesecakes are made even easier because the melted white chocolate provides all the sweetness for the cream cheese so no need for extra sugar.