Baked cheesecake with French goat's cheese and orange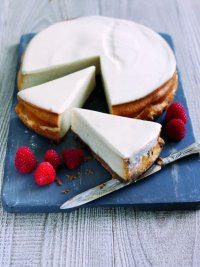 A great alternative to traditional baked cheesecake, made with spreadable goat's cheese instead of spreadable cow's milk cheese.
Preparation: 25 mins
Cooking: 50 mins
Serves: 12
What you need:
For the base
85g butter, melted plus a little extra for greasing the cake tin
150g digestive biscuits
1 tbsp caster sugar
For the filling
900g spreadable fresh French goat's cheese
275g caster sugar
3 tbsp plain flour
3 eggs
1 yolk
2 tsp vanilla bean paste or seeds of 1 pod
Zest 2 oranges
Juice 1 lemon
200mls sour cream
For the topping
200mls sour cream
Juice 1 lemon
2 tbsp caster or icing sugar
What you do:
Prepare a 23cm spring-form cake tin by greasing the base with butter and lining with baking parchment.
Melt the butter on the stove in a small saucepan. Place the digestive biscuits in a food processor and blitz until they resemble fine bread crumbs. Add the sugar and pour in the melted butter. Blitz again to combine well.
Press the biscuit mix into the bottom of the cake tin and push well into the edges. Place the cake tin onto a baking tray and put into the preheated oven for 10 minutes. Once cooked, remove and leave to cool.
To make the filling. First beat the spreadable fresh French goat's cheese either by hand or use the paddle attachment of a work top mixer. Do this for about 2-3 minutes until the cheese is light and fluffy. Next, change to a whisk and add the sugar, flour, vanilla, eggs and egg yolk. Whisk until all smooth and combined before adding the orange zest, lemon juice and sour cream.
Brush the edges of the cake tin with a little more melted butter before pouring the mixture into the cake tin. Bake at 160oc for 10 minutes before turning the oven down to 120oc and cooking for a further 40 minutes. The cake is cooked once it is set with a little wobble when you give the tin a shake.
Leave the cake to cool in the oven with the door slightly open for 2 hours.
For the topping, combine the sour cream with the lemon juice and sugar. Once the cake is cooled, pour the sour cream over the top of the cake right to the edges. Cover with cling film and allow setting in the fridge overnight.
Serve cut into thick slices with a few fresh berries.
Cook's tip:
Serve with fresh berries
This page can be found at: http://secretsauce.co.uk/cakes-desserts/cheesecake-recipes/baked-cheesecake-with-goats-cheese-and-orange/
A short link can also be used: http://bit.ly/vIj7pb
French goat's cheese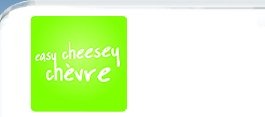 Award-winning chef Sophie Wright is the French goat's cheese Ambassador. She says, "I'm passionate about simple, practical recipes. French goat's cheese is so versatile and easy to use, as it moulds well with lots of food styles. Just pick up some chèvre at your local supermarket or local deli. It can be used to whip up mouthwatering meals at short notice. Ranging from mild to strong, creamy to hard, chèvre is great as a lunchtime treat or a sophisticated dinner party dish."
More from French goat's cheese

These delicious fish cakes have a secret molten fondant of creamy French goat's cheese in the middle, so no need to serve with a sauce!

Selles-Sur-Cher is a dry French goat's cheese packed with flavour which perfectly complements asparagus. This is a perfect starter for any occasion

A warm French goat's cheese salad with pear, endive and pomegranate seeds that's bright and colourful. Perfect as a side dish, starter, main course or lunch.
Popular in cheesecake recipes

This strawberry cheesecake makes your mouth water just at the sight of it - so it's not too much of a stretch to imagine how much your tastebuds will like this too!

A delicious minty cheesecake perfect for a dinner party or a tasty treat!

These no-bake cheesecakes are made even easier because the melted white chocolate provides all the sweetness for the cream cheese so no need for extra sugar.