Lasagne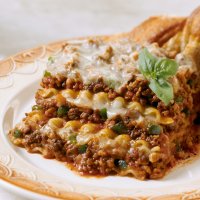 Gorgeous lasagne, sure to impress the eyes and taste buds
Preparation: 25 mins
Cooking: 50 mins
Serves: 6
What you need:
1tbsp olive oil
1 onion, peeled and chopped
1/2 green pepper, chopped
200g button mushrooms, quartered
2 cloves garlic, crushed
1 1/2 tsp oregano
l/2 tsp thyme leaves
400g lean minced beef
150ml red wine
2 reduced salt beef stock cube, crumbled.
1 can chopped tomatoes
4tbsp Heinz Tomato Ketchup - Add more ketchup to taste
1tbsp worcestershire sauce
6 fresh lasagne sheets
100g reduced fat cheddar cheese, grated
For the Bechamel sauce:
600ml semi-skimmed milk
Pinch freshly grated nutmeg
30g margarine
45g plain flour
What you do:
Preheat the oven to 180° C.
Heat oil in a large saucepan over medium heat.
Crumble in beef and brown all over, about 5 minutes
Add onion, green pepper, mushrooms, garlic and dried herbs; cook for 5 to 10 minutes until vegetables soften.
Add in the wine and reduce by half before stirring in the stock cube, chopped tomatoes, Heinz Tomato Ketchup and worcestershire sauce; bring to the boil.
Reduce heat and simmer for 10 minutes.
To make the bechamel sauce, place the milk in a large nonstick saucepan, add the nutmeg and gently bring to the boil.
In a separate saucepan melt the margarine and add the flour.
Beat well and cook for two minutes.
Remove the milk from the heat and add a little to the flour mixture.
Combine well, and when all the milk has been absorbed, add a little more.
Continue to do this until all the milk has been added, whisking continually.
Layer the meat sauce, lasagne sheets and bechamel sauce starting with the meat sauce.
Repeat layers until the dish is full, finishing with bechamel sauce.
Sprinkle the grated cheese onto the top of the sauce.
Cover with foil and bake for 35 minutes.
Remove foil and bake for 15 minutes or until golden, and heated through.
Cook's tip:
Serve this with broccoli on the side.
This page can be found at: http://secretsauce.co.uk/pasta-rice/lasagne-recipes/heinz-lasagne/
A short link can also be used: http://bit.ly/gnmgpF
Heinz Tomato Ketchup

Heinz have launched their Secret Ingredient campaign to help parents create meals from scratch which appeal to the whole family.
Celebrity chef Paul Rankin (a regular on Ready, Steady, Cook) has helped to create a range of delicious recipes, all featuring Heinz Tomato Ketchup as the secret ingredient. These recipes have been created to be healthy, quick and easy.
More from Heinz Tomato Ketchup

A quick and easy family favourite, with great flavour.

A beautifully colourful chilli con carne with a dollop of soured cream

For a surprising treat, the tomato ketchup cake is sure to tantalise your tastebuds!
Popular in lasagne recipes

A shortlist of 5 quality ingredients is all you need to make this easy, impressive family favourite. Go on - give them a taste of what they really love!

A great, traditional recipe, sure to keep the whole family happy. Don't forget the garlic bread!

A no-bake lasagne? How does that work? Find out with this ingenious recipe. Serves 3-4