Santa's Little Helper cocktail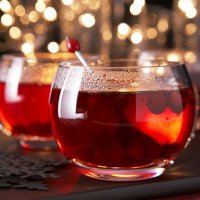 Cup your hands around this tasty tipple and feel toasty inside and out. Fruity and comforting, the smooth warmed golden rum perfectly complements the dry cranberry and sour apple. This drink can easily be made in larger quantities for groups or parties.
What you need:
2 parts Warmed Cranberry juice (not boiling)
2 parts Warmed apple juice (not boiling)
1/2 part Belvoir Cranberry cordial
1 part Golden Rum
½ part Chambord
What you do:
Warm all the ingredients, being careful not to boil, and ladle into a wine glass, garnish with a string of redcurrants.
This page can be found at: http://secretsauce.co.uk/drinks/alcoholic-cocktail-recipe/santas-little-helper-cocktail/
A short link can also be used: http://bit.ly/etbqct
Belvoir Fruit Farms

Belvoir Fruit Farms make naturally delicious and real drinks. Elderflowers are grown on their farm and fruit is pressed and ginger and lemongrass cooked to make sure the drinks taste real and fruity. No flavourings or any artificial ingredients are used.
More from Belvoir Fruit Farms

Classic lemon drizzle cake with a twist! The elderflower cordial adds an extra sweet flavour to this delicious cake. Try it and see!

I bet it's a while since you tasted a gooseberry and there's no better way to refresh your memory than with this lovely gooseberry mojito

Choose a fragrant white wine for this recipe such as a sauvignon blanc, the elderflower scents of these grapes is accentuated by the elderflower cordial.
Popular in alcoholic cocktail recipe

A blast from the past goes Cuban! A slightly more sophisticated version of that Latin crushed ice favourite.

This refreshing gin fizz cocktail was created exclusively for Jacksons of Piccadilly by food writer Ghillie James

I bet it's a while since you tasted a gooseberry and there's no better way to refresh your memory than with this lovely gooseberry mojito