Elder scented fruit jelly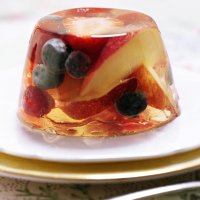 Choose a fragrant white wine for this recipe such as a sauvignon blanc, the elderflower scents of these grapes is accentuated by the elderflower cordial.
Serves: 6
Preparation time: 20 minutes + setting time
Cooking time: none
What you need:
4 sheets of gelatine or 1 (11g) sachet powdered gelatine
150ml/1/4pt dry white wine
50g/2oz caster sugar
90ml/6tbsp Belvoir's elderflower cordial
350g/12oz mixed fruits such as strawberries, blueberries, raspberries and sliced nectarines
What you do:
First prepare the gelatine: If using leaf gelatine, soak this in cold water until soft - about 5 mins. And if using powdered gelatine, sprinkle this over 60ml/4tbsp water and leave to become spongy - about 5 mins.
Put the wine, 300ml/1/2pt water and sugar together in a pan. Gently heat, stirring until the sugar has dissolved. Increase the heat and simmer for 3 mins until syupy. Remove from the heat and add the prepared gelatine, stirring until it dissolves. Stir in the cordial and leave to cool.
Scatter a layer of fruit over the base of a jelly mould, then pour over just enough jelly liquid to cover. Chill until this has set, leaving the remaining jelly at room temperature. Repeat this process until all the fruit and liquid jelly has been used - do it in stages or all the fruit will rise to teh top. Refrigerate the jelly for at least 4 hours or until firmly set.
To serve, dip the base of the jelly mould in hot water for about 40 seconds. Place a serving plate on top of the mould, then invert, giving the dish a firm sideways shake to release the jelly from the mould. Serve straight away with cream if liked.
This page can be found at: http://secretsauce.co.uk/cakes-desserts/jelly-recipes/elder-scented-fruit-jelly/
A short link can also be used: http://bit.ly/hRkIs6
Belvoir Fruit Farms

Belvoir Fruit Farms make naturally delicious and real drinks. Elderflowers are grown on their farm and fruit is pressed and ginger and lemongrass cooked to make sure the drinks taste real and fruity. No flavourings or any artificial ingredients are used.
More from Belvoir Fruit Farms

Classic lemon drizzle cake with a twist! The elderflower cordial adds an extra sweet flavour to this delicious cake. Try it and see!

I bet it's a while since you tasted a gooseberry and there's no better way to refresh your memory than with this lovely gooseberry mojito

Christmas may have been and gone, but if you still need a bit of cheer, cup your hands around this tasty tipple and feel toasty inside and out
Popular in jelly recipes

Everyone loves a jelly - especially Jo Pratt's very sophisticated adult version with Freixenet Cava.

A fantastic fruity jelly recipe the whole family will enjoy