Easy strawberry meringue sundae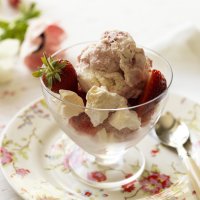 The only effort involved in this summery strawberry meringue dessert is using an electric whisk and cooking meringues in the oven. The rest is a breeze!
What you need:
4 egg whites
250g golden icing sugar
Punnet of strawberries
Kelly's Cornish Clotted Cream ice cream or Kelly's Strawberries & Cream Clotted Cream ice cream
What you do:
Preheat the oven to 150°C. Put the egg whites and sugar in a clean, dry bowl (don't use a plastic one, as they can be greasy) and beat with the whisk attachment of an electric food mixer or hand-held electric beater until the mixture is foamy and stiff.
This will take about 10 minutes; so don't use a hand whisk. Spoon the meringue on to baking trays lined with baking parchment in small dollops for individual meringues. Remember that it will spread as it cooks, so leave room between individual meringues. Cook for 35-45 minutes until crisp, and then remove from the oven and leave to cool. Break down the meringue into chunks and place in a tall glass.
This page can be found at: http://secretsauce.co.uk/cakes-desserts/strawberry-recipes/easy-strawberry-meringue-sundae/
A short link can also be used: http://bit.ly/g4ONjx
Kelly's of Cornwall

Made with clotted cream and whole milk, fresh from the cows that graze on Cornwall's lush green grass, Kelly's of Cornwall Ice Cream has a distinctive creamy flavour and velvety smoothness that you won't find in any other ice cream. Perfect for sharing at home, Kelly's is the ideal accompaniment for any family or special meal occasion.
More from Kelly's of Cornwall

This recipe just makes my mouth water! Smooth, sweet buttercream with tempting, moist chocolate cake. Don't try and resist!

Lovely chocolatey gooey brownies - serve them on their own with cups of tea, or with dollops of ice cream to make a delicious dessert

Sticky sweet apples with a crunchy topping served with creamy, smooth ice cream - this apple crumble's as good as any your mum makes!
Popular in strawberry recipes

Macaroons are the perfect dessert to follow a romantic dinner - the perfect treat!

Viva strawberries and chocolate are a match made in heaven and make a delicious treat and a healthier alternative to a bar of chocolate.

These just look so good, don't they? And they're easy to make and delicious too