Blackcurrant ice cream & shortbread biscuits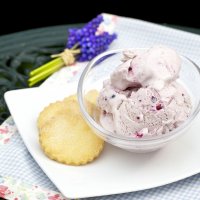 Kelly's of Cornwall ice cream is a great addition to teatime treats such as shortbread biscuits, adding a creamy fruity finish
Preparation: 50 mins
Cooking: 20 mins
Serves: 4
What you need:
125g/4oz butter
55g/2oz caster sugar
180g/6oz plain flour
Kelly's of Cornwall Clotted Cream & Blackcurrant Ice Cream
What you do:
Heat the oven to 190C/375F/Gas 5
Beat the butter and the sugar together until smooth
Stir in the flour to get a smooth paste. Turn on to a work surface and gently roll out until the paste is 1cm/inch thick
Cut into rounds or fingers and place onto a baking tray. Sprinkle with icing sugar and chill in the fridge for 20 minutes
Bake in the oven for 15-20 minutes, or until pale golden-brown. Set aside to cool on a wire rack
Serve with scoops of delicious Kelly's of Cornwall Clotted Cream & Blackcurrant ice cream
This page can be found at: http://secretsauce.co.uk/cakes-desserts/biscuit-recipes/blackcurrant-ice-cream-and-shortbread-biscuits/
A short link can also be used: http://bit.ly/HnmSNl
Kelly's of Cornwall

Made with clotted cream and whole milk, fresh from the cows that graze on Cornwall's lush green grass, Kelly's of Cornwall Ice Cream has a distinctive creamy flavour and velvety smoothness that you won't find in any other ice cream. Perfect for sharing at home, Kelly's is the ideal accompaniment for any family or special meal occasion.
More from Kelly's of Cornwall

This recipe just makes my mouth water! Smooth, sweet buttercream with tempting, moist chocolate cake. Don't try and resist!

Lovely chocolatey gooey brownies - serve them on their own with cups of tea, or with dollops of ice cream to make a delicious dessert

The only effort involved in this summery strawberry meringue dessert is using an electric whisk and cooking meringues in the oven. The rest is a breeze!
Popular in biscuit recipes

TV presenter Gaby Roslin devised these buttery biscuits, which are ideal for fun lunch boxes and birthday parties

Celebrity drinks expert Olly Smith's quick and easy choccie biscuit recipe makes a delicious, inexpensive homemade gift for friends, relatives and loved ones

Impress your mum this Mother's Day - these cookies are healthier and more thoughtful than a box of chocolates.