Strawberry shortbreads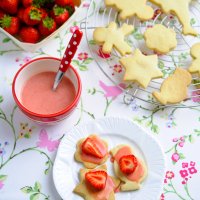 This recipe is perfect for a sophisticated afternoon tea or chic dinner party pudding, as you can bake the biscuits ahead of time and then simply layer the shortbreads with strawberries, fresh cream and vanilla to serve
Preparation: 20 mins
Cooking: 10 mins
Serves: 4
What you need:
230g unsalted butter, soft
125g caster sugar
1 tsp vanilla extract
250g plain flour
250g double cream
1tbsp icing sugar
1 tsp vanilla bean paste or extract
200g Sweet Eve strawberries, halved
What you do:
To make the shortbread dough, butter and line a baking tray with parchment. Cream the butter and the sugar together in a bowl till light and fluffy.
Add the vanilla extract and then flour, a little at a time, and incorporate until the dough is smooth.
Using a little extra flour knead the dough on a flat surface and then roll to a thickness just under 1cm using a rolling pin. Cut the shortbread dough out with a 5cm. cookie cutter. Place the shortbread biscuit on some baking parchment. Clingfilm the tray and chill in the fridge for 30 minutes.
Pre-heat the oven to 170°C. Take the tray out of the fridge and prick each of the shortbread biscuit rounds with a fork. Bake in the preheated oven for 10 minutes till the biscuits are golden. Cool on a wire rack.
Whip the double cream till stiff then fold in the icing sugar and the vanilla. Use the whipped cream to sandwich the shortbread biscuits and layer the strawberries on top of the cream.
This page can be found at: http://secretsauce.co.uk/cakes-desserts/biscuit-recipes/strawberry-shortbreads/
A short link can also be used: http://bit.ly/RRY9cY
Sweet Eve Strawberries

Sweet, juicy and plump, British strawberries are undeniably the taste of a good summer. Sweet Eve is a new variety of British strawberry. Packed with sweetness and flavour Sweet Eve is in season from June until October and it tastes like strawberries used to taste.
More from Sweet Eve Strawberries

Sophie says: 'I love making this as a celebration cake for special occasion - the layers of meringue with the fruit in between look very pretty.'

Strawberries, cream and a dash of cinnamon - the perfect pudding combination.

When it gets a bit wintry nothing beats a great crumble for dessert - it's sweet, crunchy and with a dribble of custard, perfect!
Popular in biscuit recipes

Blackcurrant ice cream is a great addition to teatime treats such as shortbread biscuits, adding a creamy fruity finish

TV presenter Gaby Roslin devised these buttery biscuits, which are ideal for fun lunch boxes and birthday parties

Celebrity drinks expert Olly Smith's quick and easy choccie biscuit recipe makes a delicious, inexpensive homemade gift for friends, relatives and loved ones