Moo-licious buttery biscuits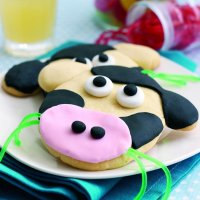 TV present Gaby Roslin devised these buttery biscuits, which are ideal for fun lunch boxes and birthday parties
Prep time: 20 mins + decorating time
Makes: About 6 Moos - depending on their size!
What you need:
225g (8oz) plain flour
100g (4oz) icing sugar
100g (4oz) cornflour
225g (8oz) Anchor Butter, softened
Black fondant icing
Pink fondant icing
White fondant icing
Jam or honey
What you do:
To make the dough:
Sieve together the plain flour, icing sugar and cornflour
Using a food processor, add the sieved flour and softened Anchor butter cut into cubes
Whiz together until the mixture starts to clog together
Turn mixture onto a lightly floured surface and gently knead together
To make the Moos:
Take a small piece of the mixture (about 75g 3oz) and roll into a ball. Flatten to make the Moo's face, then take two small knobs of the mixture, roll into a sausage shape and then flatten to make two ears.
Push the ears up to the head so that they will fix to the head during cooking.
Place each Moo carefully onto a flat baking sheet lined with non stick baking paper.
Bake in a preheated oven at Gas Mark 3 / 170C / 325F for about 10 - 15 minutes (this may vary depending on the thickness of Moos) until the Moos are pale but just changing colour around the edges.
Take off the tray carefully and allow to cool before decorating.
When cool, take the black icing and roll out thinly. Cut Moo cow patch shapes and stick to the shortbread using a little jam or honey.
Take a small knob of the pink icing roll out into an oblong shape to make the nose and then using both the black and white icing, make the eyes.
Stick to the shortbread and enjoy your Moos!
Store in an airtight container.
This page can be found at: http://secretsauce.co.uk/cakes-desserts/biscuit-recipes/buttery-biscuits/
A short link can also be used: http://bit.ly/i23rcB
Anchor Butter

Anchor's new Make a Moo promotion is offering fun family rewards - to start collecting for FREE goodies, see special packs of Anchor butter, spreadables and cheese.
More from Anchor Butter

Imagine a creamy cheesecake dessert made out of Jaffa cakes and biscuits... Well, now you don't have to!

Throwing a kids' party? Need inspiration for some delicious and fun party treats? These Anchor Moo-sli bars will put a smile on their faces!

You don't have to spend time making your own meringues to create these - buy ready-made then just decorate - they're great for kids' parties!
Popular in biscuit recipes

Blackcurrant ice cream is a great addition to teatime treats such as shortbread biscuits, adding a creamy fruity finish

Celebrity drinks expert Olly Smith's quick and easy choccie biscuit recipe makes a delicious, inexpensive homemade gift for friends, relatives and loved ones

Impress your mum this Mother's Day - these cookies are healthier and more thoughtful than a box of chocolates.