'I Love You' cookies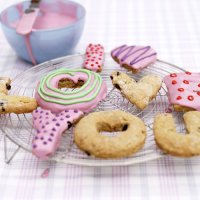 Impress your mum this Mother's Day - these cookies are healthier and more thoughtful than a box of chocolates. It is best to use paste food colours to get the intensity of colour, although the liquid ones are also fine. Cara, our recipe creator found these cutters on a special baking website, www.cakecraftshop.co.uk. Dried egg white is widely available from supermarkets, look in the home baking aisle, you will also need disposable icing bags, or cut the corner off a food bag, fill with icing and squeeze gently.
Makes: 12

Prep time: 15 mins

Cook time: 10 -12 mins
What you need:
100g unsalted butter, melted
1 medium egg
100g Jordans Superberry Muesli
250g plain flour
1 tsp bicarbonate of soda
150g soft light brown sugar
3 tbsp milk
Flour, for rolling
For the icing:
1 sachet dried egg white
500g icing sugar, sifted
Paste food colours, of your choice
What you do:
Mix together the melted butter and egg. Then stir in the muesli, flour, bicarbonate of soda, sugar and milk. Use your hands to make the mixture into a dough. Grease and flour a baking sheet.
Use a bit of flour to roll out the dough, or if you prefer, roll the dough out between two sheets of baking parchment. Flour the cutters and cut out the letters. For the 'O', I substituted a round cutter and a very small heart cutter, from a set.
Transfer to the prepared baking sheet and chill for 30 minutes.
Preheat the oven to 180 c/ fan 170 c/ Gas Mark 5. Bake the biscuits for 10 - 12 minutes. Transfer to a rack to cool.
For the icing, mix together the icing sugar and egg white. Divide this up into 3 bowls, and colour each bowl with your chosen colours. Spoon the icing into your icing bags, and use straightaway or store until ready to use.
When the biscuits are cool, spread over the base colour. Allow this to dry for 10 minutes, before piping on top of it, otherwise the icing will bleed into each other. Decorate with spots, stripes, squiggles or any other pattern.
Present to your mum!
This page can be found at: http://secretsauce.co.uk/cakes-desserts/biscuit-recipes/i-love-you-cookies/
A short link can also be used: http://bit.ly/i62rIg
Jordans Cereals

The reason
Jordans Cereals
and bars are so good is thanks to the quality of the ingredients - only the finest wholegrain oats are blended with the crispiest toasted wheat flakes, the juiciest fruits and the crunchiest nuts. But it's not just about the taste. The dedicated group of Conservation Grade farmers around Britain are passionate about growing ingredients which also help wildlife to flourish. It's called all-round goodness.
More from Jordans Cereals

Sweet, delicious breakfast muffins will certainly get your morning off to a good start!

A slice of cake for breakfast might strike you as a bit decadent, but as it's got muesli in it, it counts as a breakfast dish!

This is a perfect winter warmer of a recipe. The soft fruit is covered in a crumble topping, served with silky soft cinnamon cream.
Popular in biscuit recipes

Blackcurrant ice cream is a great addition to teatime treats such as shortbread biscuits, adding a creamy fruity finish

TV presenter Gaby Roslin devised these buttery biscuits, which are ideal for fun lunch boxes and birthday parties

Celebrity drinks expert Olly Smith's quick and easy choccie biscuit recipe makes a delicious, inexpensive homemade gift for friends, relatives and loved ones