Chocolate & banana layered dessert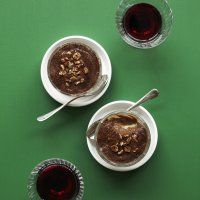 An easy-to-make dessert, perfect for entertaining
Preparation: 15 mins
Serves: 4
What you need:
100g pre-made Madeira cake sliced
25g toasted chopped hazelnuts
2 Ripe but firm bananas
4 Alpro soya chocolate desserts
60 ml/ 2floz Espresso coffee
60ml/2floz Coffee liqueur or amaretto
What you do:
Slice the bananas and slice the madeira cake.
In 4 small glasses or ramekins begin layering with a layer of madeira cake and banana, moisten the cake with a little coffee and liqueur.
Continue with a layer of soya chocolate dessert and then another layer of cake and banana, coffee and liqueur finish with a layer of chocolate and top with toasted hazelnuts.
This page can be found at: http://secretsauce.co.uk/cakes-desserts/banana-recipes/chocolate-and-banana-layered-dessert/
A short link can also be used: http://bit.ly/etV6X8
Alpro Soya

Alpro Soya creates delicious products for you to enjoy any time of the day. Made from the goodness of the whole soya bean, they are prepared with care and with the utmost respect for people and planet.
More from Alpro Soya

Don't just boil those potatoes - make them a dish in itself with this delicious traditional recipe

Looking for a vegetarian alternative for Christmas dinner? Try this traditional and delicious nut roast

Start the day with this substantial breakfast that will give you enough energy to last until lunchtime
Popular in banana recipes

Devised by celebrity chef Simon Rimmer, this is a dinner party classic with a modern twist

A delicious, quick and easy sweet snack, ideal for working mums always on the move

Devised by nutritionist Dr Carrie Ruxton, this banoffee pie has 200 fewer calories than a traditional banoffee pie recipe