Simon Rimmer's caramelised banana Eton mess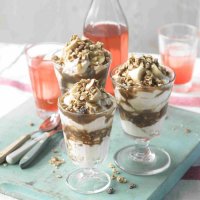 Devised by celebrity chef Simon Rimmer, this is a dinner party classic with a modern twist
What you need:
Meringue - 3 egg whites
150g sugar
Half tsp sherry vinegar
4 bananas
150ml cream
150ml crème fraiche
Sauce - 100g soft dark brown sugar
100g butter
100ml cream
Tbs rum
150g Nature's Pleasure almond, pecan and raisin.
What you do:
Preheat oven to 180c.
Beat egg whites until stiff peaks, then whisk in sugar 1 tbs at a time.
Gently fold in the vinegar.
Spoon onto greaseproof paper on a tray.
Put into the oven and turn down to 150c immediately, then bake for about 45minutes. Should be hard on the outside, chewy in middle.
Whip the cream and creme fraiche together and slice the bananas, fold half through the cream mix together with half the meringue (broken up).
Sauce - put all sauce ingredients in a pan and boil until combined, allow to cool.
To serve - put a spoonful of the creamy mix in a cocktail glass, then some meringue, Nature's Pleasure, banana and a swirl of sauce, repeat, taking the mix above the top of the glass, finish with meringue, banana and lots of sauce, then top with more Nature's Pleasure.
This page can be found at: http://secretsauce.co.uk/cakes-desserts/banana-recipes/simon-rimmers-caramelised-banana-eton-mess/
A short link can also be used: http://bit.ly/fbQLhC
Kellogg's

Kellogg's is one of the most influential and innovative brands in the world, producing more than 40 different cereals, including Coco Pops, Crunchy Nut Cornflakes and Special K.
More from Kellogg's

A modern take on an old favourite - this no-pastry tart is scrummily sticky with lots of lemon taste to balance its sweetness
Chewy, yummy... these oaty cookies are munchily more-ish. See how quickly they disappear when you put them out for friends!

Kids won't just love eating these brilliant Coco Pops rocks animals, they'll love to get involved making them too!
Popular in banana recipes

A delicious, quick and easy sweet snack, ideal for working mums always on the move

Devised by nutritionist Dr Carrie Ruxton, this banoffee pie has 200 fewer calories than a traditional banoffee pie recipe

An easy-to-make dessert, perfect for entertaining