Light banoffee pie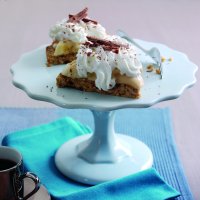 Devised by nutritionist Dr Carrie Ruxton, this banoffee pie has 200 fewer calories than a traditional banoffee pie recipe
Serves: 6
Per portion:
260 calories
7 grams of fat
What you need:
7 large dates (stones removed)
7 teaspoons lemon juice
10 light digestive biscuits
2 large firm bananas
1 pot Ambrosia toffee custard (or other flavoured custard)
Anchor Light Real Dairy Cream
Half a Cadbury's flake
What you do:
Liquidise the dates with the lemon juice
Crush the digestive biscuits in a food processor or place in a sealed plastic bag and bash with a rolling pin
Mix the dates and crushed biscuits together into a paste
Press the biscuit base into the bottom of a 7 inch shallow cake tin lined with a circle of greaseproof paper
Put in fridge for 20 minutes to set
When the biscuit base is ready, loosen it with a knife and carefully turn it out of the tin onto a plate
Slice the bananas evenly across the base
Then pour one carton of Ambrosia toffee-flavoured custard over the top and spread out to cover the bananas
Individually serve a slice and squirt Anchor Light Real Dairy Cream over the top
Finally sprinkle some Cadbury's flake and enjoy.
Handy facts:
- Per portion, this recipe saves 200 calories and 23 grams of fat compared with a standard banoffee pie recipe.
- You get 3 grams of fibre per portion thanks to the dates.
- The bananas and dates count as one of your 5-a-day.
- Bananas are an excellent source of tryptophan which helps boost serotonin, the natural happy chemical in the brain.
This page can be found at: http://secretsauce.co.uk/cakes-desserts/banana-recipes/light-banoffee-pie/
A short link can also be used: http://bit.ly/fCdU9O
Anchor Light Real Dairy Cream
Anchor Light has the satisfying taste of standard Anchor Real Dairy Cream, but with 40% less fat, so this year you really can have it all! It contains fewer than 25 calories in a 12.5g serving (a generous squirt).
More from Anchor Light Real Dairy Cream

One portion of winter fruits counts as 2 towards your five a day and apricots are a great source of vitamin A, so a good for you and delicious dessert!

Why stick to the traditional lemon and sugar pancakes when you can have these blueberry delights?
Popular in banana recipes

Devised by celebrity chef Simon Rimmer, this is a dinner party classic with a modern twist

A delicious, quick and easy sweet snack, ideal for working mums always on the move

An easy-to-make dessert, perfect for entertaining