Tarte tatin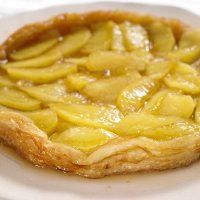 The queen of all apple tarts - this is a famous and delicious dessert for good reason and this one's really easy to make!
What you need:
1 x 500g pack Jus-RolTM Frozen All Butter Puff pastry - thawed
175g/7oz granulated sugar
125ml/1⁄4 pt. water
6 medium dessert apples - such as Cox's
50g/2oz. Butter
What you do:
Preheat oven to 220oC (200oC for fan assisted ovens) 425oF/ Gas M 7
Have ready a 20cm/8in tatin dish or sandwich tin (not the loose bottomed kind)
Roll out the pastry large enough to cut out a disc approx. 2 cm. large than the tin you will be using,
place on a sheet of baking paper and put to chill.
Gently heat together the sugar and water in a heavy pan until the sugar is dissolved, meanwhile grease
the tin well with some of the butter and peel, core and thickly slice the apples.
As soon as the caramel reaches a medium golden colour pour quickly over base of the tin - then arrange
apple slices on top, dot with remaining butter. NB do not worry if the caramel sets at this stage.
Slide pastry disc over apples, tucking in excess all round, prick top of pastry and bake for 25 - 30 min-
utes until pastry is risen and golden brown.
Remove from oven and immediately, but carefully invert onto a larger plate. Serve warm or cold.
This page can be found at: http://secretsauce.co.uk/cakes-desserts/apple-recipes/tarte-tatin/
A short link can also be used: http://bit.ly/fkiqi1
Jus-Rol

Jus-Rol is the UK's pioneering pastry company, committed to providing the highest quality chilled and frozen pastry products. The product range includes ready rolled pastry sheets in both puff and shortcrust pastry, pastry blocks, as well as individual puff pastry rounds, large shortcrust pastry cases and handy pie lids.
More from Jus-Rol

A delicious, fruity dessert - the best in comfort food and just mouth-watering served with a big dollop of creamy custard

This chicken, pesto and spinach tart looks so delicious it seems a shame to cut into it! But once you do, don't expect it to be there for long!

A delicious quick and easy open tart, perfect for a summer lunch or picnic
Popular in apple recipes

Flapjacks are great for desserts, snacks and even lunchboxes, so make up a tray and watch them disappear!

Mmmmmm apple pies. The smell of them baking, the first cut of the fork into the pastry and the apples oozing out...

A traditional, fruity Bramley Apple Crumble developed for children by celebrity chef Phil Vickery