Bramley apple ginger & caramel pies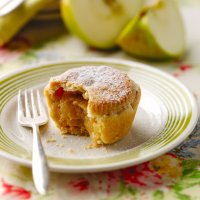 Mmmmmm apple pies. The smell of them baking, the first cut of the fork into the pastry and the apples oozing out...
Preparation: 25 mins
Cooking: 20 mins
Serves: 12
What you need:
20g butter
2 Bramley apples (about 450g), peeled, cored and roughly chopped
1/2 tsp ground ginger
flour for dusting
500g shortcrust pastry
12 heaped tsp (shop bought or home-made) caramel, toffee or fudge sauce
1 egg, beaten
2 tbsp granulated sugar
What you do:
Preheat the oven to 180C/160C fan ovens/Gas 6.
Melt the butter in a medium saucepan and add the apples along with the ginger and 1 tbsp of water. Cover with a lid and cook for 10 minutes, stirring occasionally, until the apples are soft and almost pureed. Remove from the heat and cool slightly.
On a lightly floured surface, roll out the pastry to approx the thickness of a £1 coin. Cut out 12 x 9cm circles and 12 x 6cm circles, re-rolling the pastry if necessary.
Line the patty tin with the larger circles of pastry and put 1 heaped teaspoon of the caramel sauce in the middle of each one. Spoon the gingery flavoured apples on top. Dampen the edges of the pastry with water and sit the smaller circles of pastry on top. Press lightly with the back of a teaspoon to seal and pierce a hole in the top. Brush with the beaten egg and sprinkle with the granulated sugar.
Bake in the oven for 20 minutes, until the pastry is golden and crisp. Leave to cool for a few minutes in the tin before cooling further on a wire rack. Serve warm or cool.
Cook's tip:
If you happen to have any cooked apple left over that won't fit into the pastry cases, it can be kept in the fridge for a few days and is delicious eaten with yoghurt and granola for breakfast.
This page can be found at: http://secretsauce.co.uk/cakes-desserts/apple-recipes/bramley-apple-ginger-and-caramel-pies/
A short link can also be used: http://bit.ly/Scvq4s
Bramley Apples

The Bramley is rightly recognised by professional chefs and home cooks alike as the best apple for cooking. Grown only in Britain, the Bramley's unique qualities make it one of the most versatile ingredients, equally at home in a savoury stir fry as a traditional apple pie.
More from Bramley Apples

Cheap ingredients, quick to make, but packed full of flavour and perfect with a lovely cup of tea!

These are tasty snacks, which may be served warm or cold

The blend of hot spices, sour flavours and lentils make a dhansak a popular curry. Try serving it with basmati rice and a cooling raita.
Popular in apple recipes

Flapjacks are great for desserts, snacks and even lunchboxes, so make up a tray and watch them disappear!

These are tasty snacks, which may be served warm or cold

A traditional, fruity Bramley Apple Crumble developed for children by celebrity chef Phil Vickery