Green wok vegetables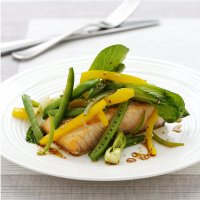 This is a really versatile dish where the pak choi can be swapped for savoy cabbage, chinese leaves or spring cabbage
Serves: 4
What you need:
2 yellow peppers
1 large or 4 small pak choi (If necessary, can be substituted for: spring cabbage, Savoy cabbage or Chinese leaves)
125 g sugar snaps
2 chillies
1 tbsp sesame seeds
Oil for frying
1 clove garlic
1 tsp ground ginger
50ml Kikkoman Soy Sauce
1 tbsp honey
What you do:
Cut the pepper into thin strips.
Halve the small pak choi or chop the large ones roughly.
Halve the sugar snaps lengthways and cut chilli into thin strips.
Toast the sesame seeds in a dry pan and put them to one side.
Stir-fry the pepper in oil with added garlic for 2 mins.
Add pak choi, sugar snaps and ginger and fry for a further 2 mins.
Add soy sauce, bring to the boil and season to taste with honey.
Serve the vegetables with grilled meat, poultry or fish.
Preparation time 15 min.
This page can be found at: http://secretsauce.co.uk/vegetarian/stir-fry-recipes/green-wok-vegetables/
A short link can also be used: http://bit.ly/frIXkl
Kikkoman

Kikkoman's world famous naturally brewed soy sauce is still made to the same traditional recipe created in Japan 300 years ago using just soybeans, wheat, salt and water to bring out the flavour of your dishes.
More from Kikkoman

This scrumptious chilli con carne contains a little dark chocolate to make it rich and deep and flavour, but don't worry, you won't be able to taste it as such

Make something a bit different from your usual chicken stir-fry with sticky sweet honey and garlic to coat the chicken

This is the simplest way to prepare prawns, just follow our recipe and you'll have peppery soy prawns in a flash!
Popular in stir fry recipes

A tasty meal for four, or halve the ingredients and have a romantic dinner for two with aphrodisiac asparagus!

A delicious, vegetarian dish from Dragons' Den entrepreneur, Levi Roots

A lovely vegetarian stir-fry ready in a matter of minutes!