Watercress soup with mini cheese & chive scones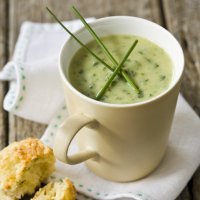 Relax with a deceptively healthy mug of watercress soup when it's chilly outside and don't forget the delicious cheese and chive scones!
Serves: 5-6
What you need:
1 tablespoon olive oil
1 large leek, about 200g (7oz) washed and finely chopped
2 cloves garlic, peeled and crushed
2 potatoes (about 450g/15oz) peeled and diced
600ml (1 pint) hot vegetable or chicken stock
About 450ml (3/4 pint) Gold Top milk
250g (8oz) watercress (leaves and stalks) washed well
Salt and freshly ground black pepper
Fresh chives, to garnish, optional
What you do:
Heat the oil in a deep pan and fry the leek and garlic for about 5 minutes, over a low heat, stirring occasionally, to soften but not brown, the leek.
Add the diced potato and stock and bring to the boil. Reduce the heat, cover and simmer for 20 minutes until the potato is tender.
Pour in the Gold Top milk and bring back to the boil. Add the watercress and cook for a minute or two for it to wilt but still retain its colour. Season with a little salt and black pepper.
Pour into a food processor and blend until smooth.
Ladle into hot mugs or bowls. Garnish with chives if you like.
Mini cheese and chive scones
Makes: 10-12
Set the oven to Gas Mark 6 or 200°C. Sift 200g (7oz) self-raising flour into a bowl, add 60g (2oz) butter cut into small pieces. Mix them in then rub them in with your fingertips until the mixture resembles fine crumbs. Stir in 60g (2oz) grated mature Cheddar cheese and 1 rounded tablespoon fresh chopped chives.
Stir in 100ml (3 ½ fl oz, or about 7 tablespoons Gold Top milk with 1 teaspoon ready made mustard and mix to a dough with a round-bladed knife, to form a rough ball. Knead the dough very lightly on the work surface dusted with flour. Do not overwork the dough. Press or roll out to 1.5cm-2cm (3/4inch) thick and cut out rounds using a 4.5-5 cm (1 ¾-2 inch) cutter. Gather scraps of dough and make more scones.
Place them on a baking sheet. Brush the tops with a little Gold Top and sprinkle with 15g (1/2oz) finely grated cheddar. Bake for 15-18 minutes until risen and golden. Serve warm with the soup.
This page can be found at: http://secretsauce.co.uk/vegetarian/soup-recipes/watercress-soup-with-cheese-chive-scones/
A short link can also be used: http://bit.ly/g3LVTk
Gold Top

Gold Top milk comes exclusively from Jersey and Guernsey herds owned by a British co-operative of dairy farmers. The quality of milk is unsurpassed, being rich, creamy, golden in colour and perfect for adding a touch of magic to almost any dish. What's more it is naturally high in protein and calcium which are essential for maintaining good health.
More from Gold Top

Creamy, delicious, this celeriac soup is really special with garlic toasts to dip right in!

Creamy and delicious with buttery mash, this fish pie will soon become a firm family favourite

Use up your leftover turkey, roast potatoes and vegetables with this scrumptious turkey broth to make a wonderfully warming meal
Popular in soup recipes

Spice up a simple tomato soup recipe with chilli and paprika, then serve with a dollop of sour cream and chive dip and warm crusty bread

This is such a great soup if you've just battled through wind and rain to get home. Serve with muffins or crusty bread

Containing two of your five a day, this easy soup is good for you and will warm you up from the inside out!