Pot-roast turkey broth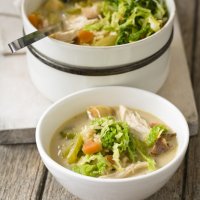 Use up your leftover turkey, roast potatoes and vegetables with this scrumptious turkey broth to make a wonderfully warming meal
Serves: 4-5
What you need:
1 litre (1 ¾ pints) home made turkey stock (see below)
1 large carrot, peeled and diced
2 sticks celery, diced
50g (2oz) long grain rice
450ml (3/4pint) Gold Top milk
About 200g (7oz) cooked turkey, shredded
About 200g (7oz) leftover roast potatoes (and cooked carrot and parsnip, if you like) cut into small chunks
1 small lemon, grated rind and juice
Salt and freshly ground black pepper
100g (3 1/2oz) (about a quarter) Savoy cabbage, finely shredded
To make turkey stock:
What you need:
Turkey carcass
1 onion, unpeeled, quartered
1 large carrot
1 celery stick, cut into chunks
2 bay leaves
A few thyme sprigs
8 black peppercorns
1/2 teaspoon salt
2 litres (3 1/2 pints) cold water
What you do:
Put the carcass from a roast turkey in a large deep pan with all the other stock ingredients.
Bring to the boil, then simmer, half-covered for 2 hours.
Cool for half-an-hour, strain off the bones and vegetables and discard them.
Cool the stock quickly. Use in soups, stews and risottos.
What you do:
Pour the stock into a large pan. Bring to the boil, add the carrot, celery and rice and simmer for 15 minutes.
Stir in the Gold Top milk, cooked turkey and vegetables, bring back to the boil, add lemon rind and juice and seasoning, to taste. Bring back to the boil and sprinkle the cabbage on top in a layer. Half cover with a lid and simmer for 5 minutes until the cabbage is just tender.
Spoon into hot soup bowls.
Handy tips:
If freezing the stock you can boil it up for another 15-20 minutes to reduce it to a concentrate. Cool, pour into tubs leaving at least 2.5 cm (1 inch) gap at the top for expansion. Seal, label and freeze. Use within 3 months. Thaw overnight in the fridge or from frozen in the microwave or in a pan.
This page can be found at: http://secretsauce.co.uk/meat-poultry/turkey-recipes/pot-roast-turkey-broth/
A short link can also be used: http://bit.ly/hiXCBs
Gold Top

Gold Top milk comes exclusively from Jersey and Guernsey herds owned by a British co-operative of dairy farmers. The quality of milk is unsurpassed, being rich, creamy, golden in colour and perfect for adding a touch of magic to almost any dish. What's more it is naturally high in protein and calcium which are essential for maintaining good health.
More from Gold Top

Creamy, delicious, this celeriac soup is really special with garlic toasts to dip right in!

Relax with a deceptively healthy mug of watercress soup when it's chilly outside and don't forget the delicious cheese and chive scones!

Creamy and delicious with buttery mash, this fish pie will soon become a firm family favourite
Popular in turkey recipes

A roast turkey crown for Christmas makes a superb centrepiece to the table and there's little wastage. Devised by celebrity chef Phil Vickery

A traditional Italian meatball and passata dish with a British turkey twist!

If you're having a children's party but still want them to eat something healthy that's not full of additives, then this recipe is perfect as it feeds 25!