Celeriac soup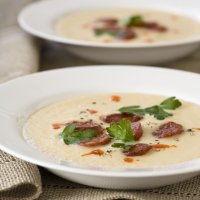 Creamy, delicious, this celeriac soup is really special with garlic toasts to dip right in!
Serves: 6
What you need:
25g (1oz) butter
1 onion, peeled and diced
1 potato, peeled and cubed (about 200g/7oz)
1 celeriac (about 750g/ 1 1/2lb) peeled and cubed
600ml (1 pint) hot good chicken or vegetable stock
Salt and freshly ground black pepper
600ml (1 pint) Gold Top milk
300g (10oz) Spanish Chorizo sausage, skin peeled off
Flat leaved parsley, whole leaves or roughly chopped
What you do:
Put the butter and onion in a large pan and cook over a medium heat, covered, for 5 minutes, stirring occasionally until softened but not browned.
Add the cubes of potato and celeriac, stir well and cook, covered over low heat for 10 minutes, stirring occasionally.
Pour in the stock, half cover and cook for 30-35 minutes or until the vegetables are tender enough to mash.
Puree the mixture in a food processor until smooth. Pour it back into the pan, add the Gold Top milk, season well and warm through. Add more milk or stock to get the soup the consistency you like.
Slice the chorizo and put into a frying pan over a medium heat for a few minutes, turning the slices over until just browned on both sides and the flavoured oil is released.
Spoon the soup into bowls. Place chorizo slices on top and drizzle the oil over. Add parsley leaves and sprinkle with freshly ground black pepper.
Garlic toasts: Slice a ciabatta loaf thinly. Toast on both sides and then drizzle them with extra virgin olive oil flavoured with garlic.
This page can be found at: http://secretsauce.co.uk/meat-poultry/soup-recipes/celeriac-soup/
A short link can also be used: http://bit.ly/i76giV
Gold Top

Gold Top milk comes exclusively from Jersey and Guernsey herds owned by a British co-operative of dairy farmers. The quality of milk is unsurpassed, being rich, creamy, golden in colour and perfect for adding a touch of magic to almost any dish. What's more it is naturally high in protein and calcium which are essential for maintaining good health.
More from Gold Top

Relax with a deceptively healthy mug of watercress soup when it's chilly outside and don't forget the delicious cheese and chive scones!

Creamy and delicious with buttery mash, this fish pie will soon become a firm family favourite

Use up your leftover turkey, roast potatoes and vegetables with this scrumptious turkey broth to make a wonderfully warming meal
Popular in soup recipes

A warming soup to heat up your cockles all year round!

Sweet potatoes are a great vegetable for soups and this one, with a dash of paprika and garlic, will warm you up in no time

The next time you're having a roast chicken, this soup is the ideal thing for the next day. It's a delicious, warming soup for any time of year