Sweet potato & creamed corn soup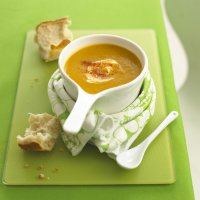 Containing two of your five a day, this easy soup is good for you and will warm you up from the inside out!
Serves: 4
Ready in: 20 minutes
Cost per portion: 72p
241kcals
3g protein
4.5g fat (of which 0.6g saturates)
48g carbohydrate (of which 11.5g sugar)
4.9g fibre
1g salt
Equipment:
Large saucepan
Stick hand blender or food processor
What you need:
3 medium or 2 large sweet potatoes. approx 750g (peeled weight 600g)
1 tbsp olive oil
1 medium onion, chopped
1 clove garlic, crushed
2 tsp mild curry paste
750ml vegetable stock
418g can Green Giant Creamed Style Sweetcorn
Dollop low fat yogurt, to serve
Fresh coriander (if available)
What you do:
Peel the potatoes and roughly chop.
Heat the oil in a large pan, add the onion and cook for 3-4 minutes until beginning to soften, add the garlic, curry paste and sweet potatoes and cook another 2 minutes over a medium heat..
Pour in the stock and creamed sweetcorn. Bring to simmer, cover the pan and simmer for 10-12 minutes or until the potato is soft.
Remove the pan from the heat and blend with a hand blender or in a food processor until smooth. Season if needed, then re-heat before serving.
Serve each portion with a dollop of yogurt and coriander leaves if using.
This page can be found at: http://secretsauce.co.uk/vegetarian/soup-recipes/sweet-potato-and-creamed-corn-soup/
A short link can also be used: http://bit.ly/fHQ99Y
Green Giant

Green Giant sweetcorn and specialty vegetables are the perfect way to make sure you and your family get their five recommended daily servings of fruit and vegetables a day. Products contain no artificial additives or preservatives, just lots of tasty goodness that everyone can enjoy.
More from Green Giant

Children love pasta and they'll love this dish with their favourite sweetcorn. This basic tomato sauce is a great standby recipe which will become a favourite dish as leftover ingredients can be added to ring the changes.

Italian dishes don't come finer than a traditional spaghetti Bolognese and this one is sure not to disappoint

Macaroni with a large helping of stretchy melted cheese and a creamy topping - comfort food doesn't get any better than this
Popular in soup recipes

Spice up a simple tomato soup recipe with chilli and paprika, then serve with a dollop of sour cream and chive dip and warm crusty bread

This is such a great soup if you've just battled through wind and rain to get home. Serve with muffins or crusty bread

This warm and filling high-fibre dish is great for those cold winter evenings and packs in a massive 4 of your 5 a day