Pizza picante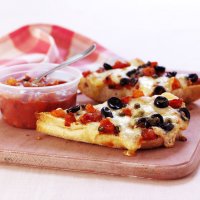 Sharron says: "Perfect for a hasty snack for the kids after school or when we're all dashing around at the weekends. My kids love capers and olives, but of course you can add your kids' favourite toppings - canned sweetcorn, ham or sliced mushrooms are other favs with mine!"
Per serving
Energy (kcal) 249
Fat (g) 13.7
of which saturates (g) 5.7
Total sugars (g) 2.3
Salt (g) 1.86
Preparation: 5 mins
Cooking: 8-10 mins
Serves: 2
What you need:
Quarter of a ciabatta loaf
3-4 tbsp fresh salsa dip
75g mozzarella, drained and chopped
2 tbsp sliced pitted olives
2 tsp capers, drained and rinsed
A drizzle of olive oil
What you do:
Preheat the oven to 200C/Fan 180C/400F/Gas Mark 6. Cut the ciabatta in half horizontally then place cut side up on a baking sheet.
Spoon over the salsa, then scatter over the cheese, olives and capers. Drizzle over the oil. Bake in the hot oven for 8-10 mins or until the cheese is melted and golden. Cool slightly before serving.
This page can be found at: http://secretsauce.co.uk/vegetarian/pizza-recipes/pizza-picante/
A short link can also be used: http://bit.ly/dEyxko
Skandi Candle
Pure soy wax candles in Flack Fig & Vetiver or Lemon fragrances - perfect for any dinner party or romantic night in.
Fresh dips
Bakkavor Foods is a leading producer of supermarket own-label dips.
More from Fresh dips

Spice up a simple tomato soup recipe with chilli and paprika, then serve with a dollop of sour cream and chive dip and warm crusty bread

It's always a struggle getting your five a day but this recipe counts as 2 portions per serving. Don't forget the houmous and mint dip as a delicious side dish

This is a cheats' recipe for a classic Spanish tapas dish. Potatoes topped with spicy tomato and chilli sauce, the name literally means fierce potatoes
Popular in pizza recipes

Contains three of your five-a-day plus two servings of wholegrain per person. The recipe is low in saturated fat and salt.

For a speedy pizza, simply replace a homemade tomato sauce on the base of your pizza for fresh salsa

If you love a pizza, but are trying to stick to a healthy diet, this French bread pizza is the dinner for you!