Scrumptious Spaghetti Bolognese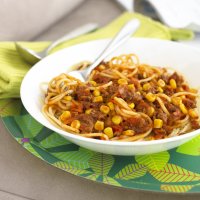 Italian dishes don't come finer than a traditional spaghetti Bolognese and this one is sure not to disappoint
Serves: 4
Ready in: 45 minutes
Nutritional information per portion:
575 Cals - 29% GDA
16g Sugar - 18% GDA
15g Fat - 21% GDA
5g Sat Fat - 25% GDA
1.3g Salt - 22% GDA
2 portions of vegetables
Equipment:
Large non-stick deep frying pan
Large saucepan
Sieve/colander
What you need:
1 medium onion
1 tbsp olive oil
400g/14oz lean minced beef
1-2 cloves garlic, crushed
400g can chopped tomatoes
2 tbsp tomato puree
300ml/½ pt beef stock
2 medium carrots
1 tsp dried oregano
1 tsp Worcestershire Sauce
340g Green Giant Sweetcorn, drained
300g/10oz spaghetti
What you do:
Cook the onion in the frying pan with the oil over a medium heat for 5 minutes until softened. Increase the heat and add the garlic and minced beef and cook breaking up the mince until browned.
Stir in the tomatoes, tomato puree and stock, gently bring to simmer. Meanwhile peel and coarsely grate the carrots, add to the pan with the oregano, Worcestershire Sauce and drained sweetcorn, cover the pan and simmer 30 minutes. Season if needed.
Meanwhile cook the spaghetti to packet directions, drain and serve with the Bolognese sauce.
This page can be found at: http://secretsauce.co.uk/pasta-rice/spaghetti-recipes/scrumptious-spaghetti-bolognese/
A short link can also be used: http://bit.ly/ercjEs
Skandi Candle
Pure soy wax candles in Flack Fig & Vetiver or Lemon fragrances - perfect for any dinner party or romantic night in.
Green Giant

Green Giant sweetcorn and specialty vegetables are the perfect way to make sure you and your family get their five recommended daily servings of fruit and vegetables a day. Products contain no artificial additives or preservatives, just lots of tasty goodness that everyone can enjoy.
More from Green Giant

Children love pasta and they'll love this dish with their favourite sweetcorn. This basic tomato sauce is a great standby recipe which will become a favourite dish as leftover ingredients can be added to ring the changes.

Macaroni with a large helping of stretchy melted cheese and a creamy topping - comfort food doesn't get any better than this

Tender salmon and cod, with sweetcorn, cheese and spring onions, this fish pie will live up to its name and soon become a firm family favourite
Popular in spaghetti recipes

A quick and easy family favourite, with great flavour.

This delicious spaghetti dish is ready in under 15 minutes and you could serve it cold for a packed lunch the next day!

Enjoy this delicious spaghetti dish created by Italian chef and owner of Zilli restaurants, Aldo Zilli