Magnificent macaroni cheese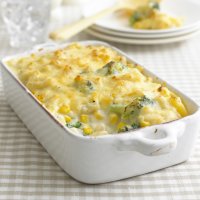 Macaroni with a large helping of stretchy melted cheese and a creamy topping - comfort food doesn't get any better than this, but it still contains two of your five a day
Serves: 4
Ready in: 40 minutes
Per portion
617 Cals - 31% GDA
14g Sugar - 16% GDA
27g Fat - 39% GDA
17g Sat Fat - 85% GDA
1.7g Salt - 28%GDA
2 portions of vegetables
Equipment
Large pan
Medium pan
Ovenproof dish
What you need:
200g macaroni
350g broccoli florets
340g can Green Giant Sweetcorn, drained
40g butter
40g plain flour
600mlt semi-skimmed milk, warmed
1 tsp English mustard (optional)
175g strong cheddar cheese, grated
What you do:
Heat the oven to 200C/gas 6.
Cook the macaroni in a large pan salted water for 5 minutes, cut the broccoli into small florets add to the pan and cook for a further 3 minutes until the macaroni and broccoli are just tender. Drain, and turn into the ovenproof dish
To make the sauce, melt the butter in a pan, stir in the flour and cook, stirring over a medium heat for 1 minute. Remove from the heat and gradually add the milk, stirring well after each addition. Return to the heat and bring to the boil, and cook, stirring, until the sauce thickens. Remove from the heat, add the mustard if using and season with salt and pepper. Add three quarters of the cheese, stir until the cheese has melted.
Add the sweetcorn and pour into the dish, fork the sauce through the pasta and broccoli. Scatter the remaining cheese on top, then bake in the oven for 20 minutes until the dish is bubbling and the top is golden.
This page can be found at: http://secretsauce.co.uk/pasta-rice/macaroni-recipes/macaroni-cheese/
A short link can also be used: http://bit.ly/dZgpA0
Skandi Candle
Pure soy wax candles in Flack Fig & Vetiver or Lemon fragrances - perfect for any dinner party or romantic night in.
Green Giant

Green Giant sweetcorn and specialty vegetables are the perfect way to make sure you and your family get their five recommended daily servings of fruit and vegetables a day. Products contain no artificial additives or preservatives, just lots of tasty goodness that everyone can enjoy.
More from Green Giant

Children love pasta and they'll love this dish with their favourite sweetcorn. This basic tomato sauce is a great standby recipe which will become a favourite dish as leftover ingredients can be added to ring the changes.

Italian dishes don't come finer than a traditional spaghetti Bolognese and this one is sure not to disappoint

Tender salmon and cod, with sweetcorn, cheese and spring onions, this fish pie will live up to its name and soon become a firm family favourite
Popular in macaroni recipes

A great family favourite, this classic dish has been given the healthy treatment.

This favourite family recipe from the 1970s is given a twist with the addition of leeks and mushrooms.

Comfort food at its best! This great family favourite is given a colourful new twist with the addition of turkey, Peppadew Peppers and broccoli.