Pumpkin soup with dark rye croutons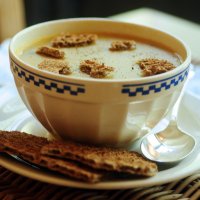 A heart-warming winter soup, delicious accompanied with Dark Rye Ryvita Croutons
What you need:
Olive Oil
Onion finely chopped x 2
Pumpkin or squash (peeled, deseeded and chopped into chunks) x 1 kg
Vegetable stock x 700 ml
Double cream x 142ml
Fresh Sage x 1 tspn (finely chopped)
Salt and Pepper to taste
Dark Rye Ryvita Crispbreads x 1 packet
Dried Pumpkin seeds x 1 handful
What you do:
Cook the onions in a large saucepan in a little olive oil for about 5 minutes, until soft.
Add the pumpkin or squash to the pan with the sage, and continue cooking for 10 minutes, stirring occasionally until it starts to soften and turn golden.
Then pour in the vegetable stock and season with salt and pepper.
Bring to the boil, and then simmer for 10 minutes until the squash is very soft.
Pour the cream into the pan, bring back to the boil, then puree with a hand blender.
In a separate, dry frying pan, toast the pumpkin seeds until golden.
Serve with Dark Rye Ryvita broken into croutons on the top, and a couple on the side.
Finish with a sprinkling of toasted pumpkin seeds.
This page can be found at: http://secretsauce.co.uk/vegetarian/soup-recipes/pumpkin-soup-with-dark-rye-croutons/
A short link can also be used: http://bit.ly/hXHwy8
Ryvita

Ryvita's classic wholegrain rye crispbreads come in so many yummy varieties so there's a satisfyingly crunchy option to suit every taste. A genuinely healthy, high fibre bite that actually tastes good too.
More from Ryvita

These moreish mini cheese and tomato pizzas are ideal for sharing and take just five minutes to make...

An easy, rich and creamy fruit fool, with a delightful crunch.
Popular in soup recipes

Spice up a simple tomato soup recipe with chilli and paprika, then serve with a dollop of sour cream and chive dip and warm crusty bread

This is such a great soup if you've just battled through wind and rain to get home. Serve with muffins or crusty bread

Containing two of your five a day, this easy soup is good for you and will warm you up from the inside out!