Mini pizzas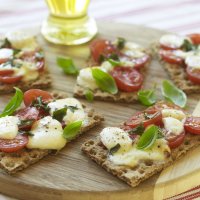 These moreish mini cheese and tomato pizzas are ideal for sharing and take just five minutes to make...
Serves: 8
88 calories per serving
What you need:
8 slices Ryvita Original Crispbread
1 tbsp olive oil
8 cherry tomatoes
1 ball mozzarella
2 tbsp cut fresh basil
Black pepper
What you do:
Sprinkle olive oil on top of crispbread
Slice the mozzarella into thin slices and arrange them on top of the cripsbread
Slice a few cherry tomatoes to add on top
Toast in oven (225°C) for a couple of minutes until mozzarella melts
Chop some basil and sprinkle on the top for a perfect finish
This page can be found at: http://secretsauce.co.uk/vegetarian/mozzarella-recipes/mini-pizzas/
A short link can also be used: http://bit.ly/h6NRNj
Ryvita

Ryvita's classic wholegrain rye crispbreads come in so many yummy varieties so there's a satisfyingly crunchy option to suit every taste. A genuinely healthy, high fibre bite that actually tastes good too.
More from Ryvita

An easy, rich and creamy fruit fool, with a delightful crunch.

A heart-warming winter soup, delicious accompanied with dark rye croutons
Popular in mozzarella recipes

A delicious pitta filled with roasted vegetables that would be perfect for either lunch or dinner.

Melted mozzarella and spicy salsa make perfect appetisers for guests, or just add a salad and you've got a lovely lunch!