Fruit crunch fool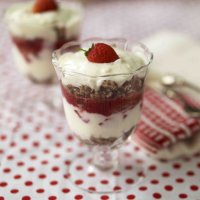 An easy, rich and creamy fruit fool, with a delightful crunch.
What you need:
Ryvita Fruit Crunch Crispbreads - x 4
Raspberries - 300g
Double Cream - 150ml
Greek Yoghurt - 125ml
Icing Sugar - 1 tbspn
lemon juice - 1 tspn
serving glasses - 4
Strawberries - 4 (for decoration)
What you do:
Rinse the berries and crush them roughly with a fork.
Pour the cream into a chilled bowl and whip it until it stands in soft folds, ensure that it is not too stiff.
Gently fold in the yoghurt and two thirds of the crushed raspberries.
Stir in the lemon juice and the icing sugar to taste.
Stir in the reserved third of raspberries, leaving a trail of red through the pink of the fool.
Crumble the Ryvita roughly, and sprinkle half of the rubble into the bottom of the dishes, dollop a spoonful of the creamy mixture on top, sprinkle with the remaining Ryvita pieces, and finish with the rest of the fool mixture.
Top each one with a strawberry, and chill until you are ready to serve.
This page can be found at: http://secretsauce.co.uk/cakes-desserts/raspberry-recipes/fruit-crunch-fool/
A short link can also be used: http://bit.ly/i7GV0u
Ryvita

Ryvita's classic wholegrain rye crispbreads come in so many yummy varieties so there's a satisfyingly crunchy option to suit every taste. A genuinely healthy, high fibre bite that actually tastes good too.
More from Ryvita

These moreish mini cheese and tomato pizzas are ideal for sharing and take just five minutes to make...

A heart-warming winter soup, delicious accompanied with dark rye croutons
Popular in raspberry recipes

Use whatever fruit is in season - raspberries, strawberries, blackberries - and indulge in this delicious fruity pavlova

A finalist in British Lion eggs' Eggs Factor contest, Elaine Garner's blackberry and raspberry souffle omelette was judged to be one of the best by celebrity chef Paul Merrett

With Pancake Day just around the corner, what could be better than using up your fridge fail-safes to whip up a batch of delicious raspberry pancakes?