Creamy Fenland celery soup with Stilton cheese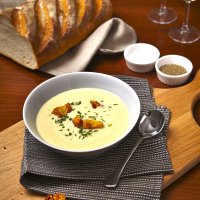 Warm yourself up in the evening with this creamy soup with a Stilton bite!
Preparation: 10 mins
Cooking: 30 mins
Serves: 4
What you need:
1 oz butter or margarine
1 small or 1/2 medium celeriac, chopped
1 large leek, chopped
2 cloves garlic, chopped
1 whole head of fresh Fenland Celery with leaves, chopped (reserve some leaf for garnishing)
850 ml vegetable or chicken stock
150 ml milk
75g Stilton cheese
Salt and pepper
For the croutons:
1 small white loaf (1day old), cut into small cubes
2 tbsp olive oil
50g Cheddar, grated
What you do:
Melt the butter or margarine and add the celeriac. Stir and then sweat for 3-4 minutes. Add the leek and garlic and cook for a further 3-4 minutes and then add the chopped celery and stock. Gently simmer with the lid on for 15 minutes or until the celery is just soft. Remove from the heat and leave to cool.
Liquidize and then sieve if a smoother texture is desired. Stir in the milk and cheese and reheat until the cheese has dissolved, taking care not to let it boil.
Garnish with croutons and 1/2 tsp finely chopped celery leaf.
If preferred the cheese can be omitted from the soup and garnished instead with the cheesy croutons for a less intense flavour.
Cheesy croutons: Mix the bread cubes, olive oil and grated cheese in a bowl. Scatter onto a baking tray and cook for 20 minutes at 180C/350F/Gas 5. Cook for another 10 minutes if not golden brown. Cool and store in an airtight container for up to a week.
This page can be found at: http://secretsauce.co.uk/vegetarian/soup-recipes/creamy-fenland-celery-soup-with-stilton-cheese/
A short link can also be used: http://bit.ly/OxPrfI
Fenland Celery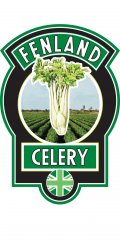 Fenland Celery is a heritage winter celery variety. It is paler in colour than standard celery and has unique 'nutty-sweet' flavour.
The unique growing method involves banking the soil up around the celery head as it grows to protect it from the frost and gives the celery its exceptional flavour.
More from Fenland Celery

Quick and easy to make whilst being very light and healthy, this is good food at its best.

Fenland celery tastes delicious when roasted. Cooking it in little parcels keeps all the flavours and lovely juices in. Try this easy recipe for family suppers, children love anything wrapped up!

Ooh, melted cheese with the perfect dippers and a sweet apple chutney. Yum!
Popular in soup recipes

Spice up a simple tomato soup recipe with chilli and paprika, then serve with a dollop of sour cream and chive dip and warm crusty bread

This is such a great soup if you've just battled through wind and rain to get home. Serve with muffins or crusty bread

Healthy and full of vitamins, this soup is also a great winter warmer and it's made with soya, so it's vegan too!