Garlic & thyme studded camembert with fenland celery dippers & apple chu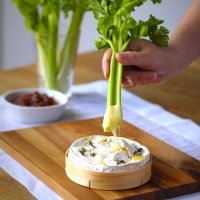 Ooh, melted cheese with the perfect dippers and a sweet apple chutney. Yum!
Preparation: 5 mins
Cooking: 15 mins
Serves: 2
What you need:
1 camembert cheese, in a wooden box
1 fat clove garlic, sliced
2-3 sprigs fresh thyme
To serve:
1/2 bunch Fenland celery
Jar of apple chutney
ciabatta or baguette slices
What you do:
Preheat the oven to 200°C.
Take the camembert out of its box, remove any wax paper wrapping and discard, then return the cheese to the box.
Make a few deep slits through into the top of the cheese and tuck in the garlic slices and thyme.
Place the cheese, with the lid, on a baking sheet and cook in the oven for around 15 minutes or until the cheese is soft and gooey within.
Serve the hot melting cheese with the Fenland celery to dip in and the chutney and bread alongside.
This page can be found at: http://secretsauce.co.uk/vegetarian/camembert-recipes/garlic-and-thyme-studded-camembert/
A short link can also be used: http://bit.ly/OxPrfN
Skandi Candle
Pure soy wax candles in Flack Fig & Vetiver or Lemon fragrances - perfect for any dinner party or romantic night in.
Fenland Celery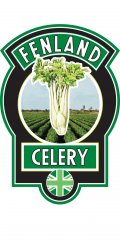 Fenland Celery is a heritage winter celery variety. It is paler in colour than standard celery and has unique 'nutty-sweet' flavour.
The unique growing method involves banking the soil up around the celery head as it grows to protect it from the frost and gives the celery its exceptional flavour.
More from Fenland Celery

Quick and easy to make whilst being very light and healthy, this is good food at its best.

Fenland celery tastes delicious when roasted. Cooking it in little parcels keeps all the flavours and lovely juices in. Try this easy recipe for family suppers, children love anything wrapped up!

A filling fishy chowder to keep the winter chills right the other side of the front door where they belong
Popular in camembert recipes

One of the most tempting dishes on a restaurant starter dish, so why haven't you ever tried making it at home?!

A simple summer salad with a delicious mixture of sweet of savoury flavours