Roasted cod with celery walnut & olive stuffing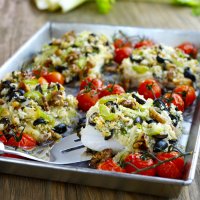 Quick and easy to make whilst being very light and healthy, this is good food at its best. The crunchy mixture of the nuts, breadcrumbs and crunchy, sweet celery make a lovely contrast to the soft, creamy cod.
Preparation: 10 mins
Cooking: 20 mins
Serves: 4
What you need:
4 x approx 150g cod loin fillets
40g Panko breadcrumbs
2 sticks Fenland celery, finely sliced
Zest and juice of 1 lemon
4 tbsp creme fraiche
40g walnuts, finely chopped
40g black olives, sliced
2 tbsp parsley, finely chopped
2 tbsp olive oil
250g cherry tomatoes on the vine, separated into bunches
What you do:
Preheat oven 200c/ 180c fan/ gas 7. Grease a shallow roasting tray or heatproof baking dish large enough to hold the fish fillets and tomatoes on the vine.
Mix together the breadcrumbs, Fenland celery, zest of the lemon, parsley, chopped walnuts and olives. Stir in 1 tbsp of the olive oil and a good squeeze of lemon juice, season to taste.
Pat the cod fillets dry with kitchen paper, place on the baking tray and spread evenly with the creme fraiche then top generously with the breadcrumb mixture, pressing down lightly to ensure a good coating. Add the cherry tomatoes to the tray and sprinkle with the remaining olive oil.
Cook in the oven for approx. 15 minutes until the fish is cooked through and the topping golden.
Serve with a squeeze of lemon juice and some new potatoes.
Cook's tip:
Fenland celery is a heritage variety of celery grown in the Cambridgeshire Fens. In 2013, Fenland celery was awarded Protected Geographical Indication (PGI) status and joined the ranks of Parma ham, Champagne and Melton Mowbray Pork Pies. Fenland celery is only grown in small pockets of Cambridgeshire, Suffolk and Norfolk using traditional farming methods. The deep, peaty soils in the Fens work towards giving Fenland celery its nutty-sweet flavour and paler colour. Fenland celery is available from October to December and can be found in Waitrose, Ocado, Wholefoods and Marks & Spencer.
This page can be found at: http://secretsauce.co.uk/fish-seafood/cod-recipes/roasted-cod-with-celery-walnut-and-olive-stuffing/
A short link can also be used: http://bit.ly/1Aw0D3V
Skandi Candle
Pure soy wax candles in Flack Fig & Vetiver or Lemon fragrances - perfect for any dinner party or romantic night in.
Fenland Celery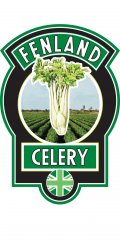 Fenland Celery is a heritage winter celery variety. It is paler in colour than standard celery and has unique 'nutty-sweet' flavour.
The unique growing method involves banking the soil up around the celery head as it grows to protect it from the frost and gives the celery its exceptional flavour.
More from Fenland Celery

Fenland celery tastes delicious when roasted. Cooking it in little parcels keeps all the flavours and lovely juices in. Try this easy recipe for family suppers, children love anything wrapped up!

Ooh, melted cheese with the perfect dippers and a sweet apple chutney. Yum!

A filling fishy chowder to keep the winter chills right the other side of the front door where they belong
Popular in cod recipes

This tender cod with a crunchy exterior is so full of flavour, you won't need much to accompany it, so keep it light with just a leafy green salad

Tender salmon and cod, with sweetcorn, cheese and spring onions, this fish pie will live up to its name and soon become a firm family favourite

This is a delicious dish for a special occasion and really straightforward to make. You can also try this cheesy topping on ciabbatta bread or chicken breasts.