Butternut squash soup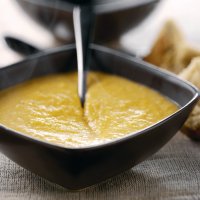 Roasting brings out the sweetness of the butternut squash giving this soup a deliciously hearty flavour.
Preparation Time: 10 minutes
Cooking Time: 40 minutes
Serves: 4
Nutritional values
Energy kcals 157
Protein g 6.9
Soya protein g 4.9
Total Fat g 9.6
polyunsaturated fat g 2.8
monounsaturated fat g 4.9
saturated fat g 1.5
Carbohydrate g 10.2
Sugar g 6.8
Fibre g 3.4
Calcium mg 169
Sodium mg 397
What you need:
2 butternut squash, de-seeded and cut into chunks
2 tbsp olive oil
salt and pepper
3 leeks, sliced
4cm piece fresh root ginger, peeled and grated
2 tbsp fresh thyme
450ml chicken stock
300ml Alpro soya Original alternative to milk
3 tbsp Alpro soya alternative to Organic Plain Yogurt
What you do:
Preheat the oven to 200C, 400F, Gas Mark 6.
Place the butternut squash on a baking tray, and drizzle with a tablespoon of olive oil over and season with salt and pepper.
Roast the squash for about 30 minutes or until soft.
In a large saucepan, heat the remaining oil and cook the leeks, ginger and thyme for about 5 minutes or until the leek beginning to soften but not colour. Season to taste.
Add the stock and the roasted squash and bring to the boil. Add the milk alternative and heat gently.
Purée in a food processor until smooth. Return to the pan and heat ready to serve. Can be served drizzled with the yogurt and garnished with thyme.
This page can be found at: http://secretsauce.co.uk/vegetarian/soup-recipes/butternut-squash-soup/
A short link can also be used: http://bit.ly/dSy2cE
Alpro Soya

Alpro Soya creates delicious products for you to enjoy any time of the day. Made from the goodness of the whole soya bean, they are prepared with care and with the utmost respect for people and planet.
More from Alpro Soya

Don't just boil those potatoes - make them a dish in itself with this delicious traditional recipe

Looking for a vegetarian alternative for Christmas dinner? Try this traditional and delicious nut roast

Start the day with this substantial breakfast that will give you enough energy to last until lunchtime
Popular in soup recipes

Spice up a simple tomato soup recipe with chilli and paprika, then serve with a dollop of sour cream and chive dip and warm crusty bread

This is such a great soup if you've just battled through wind and rain to get home. Serve with muffins or crusty bread

Containing two of your five a day, this easy soup is good for you and will warm you up from the inside out!