Camembert scones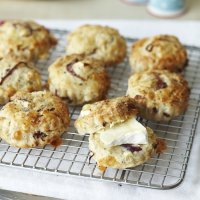 A delicious and simple alternative to your normal scones - tempting at any time of day!
Preparation: 30 mins
Cooking: 15 mins
Serves: 8
What you need:
225g/8oz self-raising flour
Pinch salt
55g/2oz butter
25g/1oz Coeur de Lion Camembert - chopped into small chunks
150 ml milk plus a little extra for glazing
1/2 tbsp poppy seeds
1 small red onion
1/2 tbsp sugar
1 tbsp red onion vinegar
1 tbsp Dijon mustard
What you do:
Oven temperatures in 220ºC/425ºF/Gas Mark5
Preheat oven and lightly grease a baking tray.
Mix together the flour and salt, then rub in the butter.
Finely slice the red onion and cook over a medium heat along with the sugar and red wine vinegar until soft, this should take about 5 mins.
Stir in the Camembert, poppy seeds, Dijon mustard, milk and red onions to the flour mixture and form a soft dough.
Turn out on to a floured surface and lightly knead. Pat the dough out to form a round 2cm thick circle. Using a 5cm cutter stamp out the scones until all the mix is used.
Place scones on baking tray, brush with milk and bake for 12-15mins
Best served slightly warm
This page can be found at: http://secretsauce.co.uk/vegetarian/scone-recipes/camembert-scones/
A short link can also be used: http://bit.ly/hrIksi
Coeur de Lion

Delicious range of authentic French cheeses. Cœur de Lion was born from the creation of a camembert so creamy and tasty that its unique recipe was patented. This camembert was so popular with consumers that Cœur de Lion started producing other soft cheeses, including Le Brie, Chaumes, La Buche, Chavroux, Crème de Brie and Pie d'Angloys. Cœur de Lion is part of a family run French cheese company founded by Jean Noel Bongrain in 1956. Now run by the second generation, the company is passionate about only making authentic and delicious French cheese.
More from Coeur de Lion

Bored of traditional cheese on toast? Step it up a gear with delicious brie, packed full of flavour

Mouth-watering home made burgers with an even more mouth-watering topping

A great dish which is simple to make, guaranteed to impress your other half
Popular in scone recipes

These cheesy scones are quick to make and are an ideal accompaniment to a hearty soup. Or serve them with sour cream, smoked salmon or gravadlax for brunch