Half-fat cheese & herb scones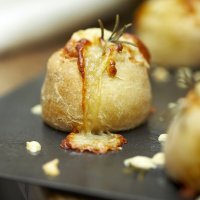 Scones are best eaten on the day they are made. These cheesy scones are quick to make and are an ideal accompaniment to a hearty soup. Or serve them with sour cream, smoked salmon or gravadlax for brunch.
Preparation time: 15 minutes
Cooking time: 20 minutes
Makes: 6 scones
What you need:
150g self-raising flour
1¼ tsp baking powder
1 tsp English mustard powder
20g butter, plus a little unsalted butter for greasing
125ml semi- skimmed milk
60g reduced fat hard cheese, grated
1 tbsp chopped fresh rosemary, plus a few extra sprigs
2 tbsp chopped fresh basil
1 tsp cayenne pepper
What you do:
Preheat the oven to 200°C (400°F) gas 6. Sift the flour, baking powder and dry English mustard together into a large bowl or food processor. Rub or blend until the butter looks like breadcrumbs.
Add the semi-skimmed milk. Mix lightly with a knife or process in bursts, to make a soft dough. Turn the dough onto a lightly floured board.
Using a floured rolling pin. Gently roll out the dough into a neat rectangle about 1cm thick, use your hands to square off the edges. Scatter half the reduced fat grated hard cheese and all the herbs over the entire surface, lightly press the cheese and herbs into the dough so they 'stick'.
Roll up like a Swiss roll, beginning from the long side, to make a long thick sausage. Cut into 6 x 3cm slices to make little rounds. Place the rounds, with the spiral facing up on a greased baking tray well spaced apart and sprinkle with the remaining cheese. Tuck a sprig of rosemary into the top of each scone and dust with cayenne pepper.
Bake in the oven for 15-20 minutes or until golden brown and risen. Remove from the oven and allow to cool on a wire cooling tray.
This page can be found at: http://secretsauce.co.uk/vegetarian/scone-recipes/cheese-herb-scones/
A short link can also be used: http://bit.ly/e9Wqu7
The British Cheese Board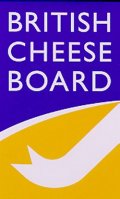 The British Cheese Board is the voice of British cheese and is dedicated to educating the public about the nutritional benefits of cheese as part of a balanced diet in the UK. There are over 700 varieties of British cheese available with a British cheese for every occasion.
More from The British Cheese Board

Succulent fish fillets topped with melting Red Leicester cheese taste superb - especially when served with a delicious aubergine and tomato salsa

This is a delicious dish for a special occasion and really straightforward to make. You can also try this cheesy topping on ciabbatta bread or chicken breasts.

This hearty risotto is full of robust flavours ideal for serving to families or friends. Accompany with a peppery rocket salad.
Popular in scone recipes

A delicious and simple alternative to your normal scones - tempting at any time of day!