Radish & cucumber salad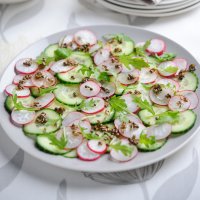 A lovely refreshing summer salad with crisp cucumber and crunchy radish
Preparation: 10 mins
Cooking: 5 mins
Serves: 4
What you need:
1 1/2 tsp mustard seeds
1 1/2 tsp fennel seeds
1/2 cucumber
20 radishes
3 tbsp olive oil
2 tsp red wine vinegar
Rock salt for seasoning
Handful of rocket leaves
What you do:
Heat a small frying pan heat the oil then add the mustard and fennel and cook for a few minutes until they become fragrant and start to pop but don't burn. Set aside to cool.
Slice the cucumber and the radishes into thin disks and arrange on a platter.
Combine the cooled oil with red wine vinegar and season with rock salt to taste. Drizzle the dressing over the cucumber and radish and then scatter with rocket.
This page can be found at: http://secretsauce.co.uk/vegetarian/salad-recipes/radish-and-cucumber-salad/
A short link can also be used: http://bit.ly/piHVSn
Love Radishes

Often thought of as just 'a bite on the side', the humble radish, with its crisp, crunchy texture and distinctive peppery bite, is a deliciously versatile snack or ingredient, perfect for adding a subtle kick to salads, sandwiches, stir fries and more.
More from Love Radishes

A delicious, healthy and quick snack or light lunch bursting with subtle flavours and brimming with colour!

A delicious Bloody Mary recipe complete with retro celery sticks and the requisite balance of fresh and bold flavours.

This beautiful and nutritious dish is inspired by the flavours of Asian cooking.
Popular in salad recipes

Dean says: 'This makes a fantastic veggie meal and it's ready in less than 15 minutes!'

If you're looking for a really healthy salad for a light lunch, this one will fill you up with goodness!

You can't accuse this salad of being boring - the couscous with a medium spice curry flavour give it a real kick