Porridge with honey & almonds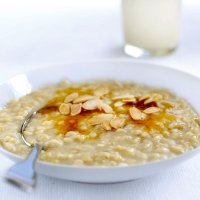 A nutritious, warming breakfast to keep you going for the morning.
Preparation: 5 mins
Cooking: 6 mins
Serves: 4
What you need:
120g porridge oats
840ml water
100g flaked almonds
4 tbsp heather honey
What you do:
It is recommended that the oats are soaked beforehand as the water softens and bloats them. Put the oats in the pan and add half of the water and leave to stand for a few minutes.
Add the remaining water when ready and put the pan on a medium heat. Bring to the boil and reduce the heat and simmer for 6 minutes stirring occasionally.
Scatter the flaked almonds onto a baking sheet and place under a medium grill for 1-2 minutes until golden and set aside. Meanwhile, check the porridge. Once the porridge has reached its desired consistency, serve into bowls, top with a generous tablespoon of honey, sprinkle with some almonds and serve immediately.
This page can be found at: http://secretsauce.co.uk/vegetarian/porridge-recipes/porridge-with-honey-and-almonds/
A short link can also be used: http://bit.ly/1iRk3az
All about oats

All About Oats is an independent campaign which aims to raise awareness of the health benefits and versatility of oats.
More from All about oats

Try using this stuffing mix to fill the cavity of whole chickens before roasting - it's perfect for Christmas turkey too

This delicious treat includes two of your five-a-day plus one serving of wholegrain per person.

Oats aren't just for breakfast and make great toppings for meat or oily fish
Popular in porridge recipes

Start the day with this substantial breakfast that will give you enough energy to last until lunchtime

Enjoy the benefit of oats with this tasty take on traditional porridge!