Aubergine & feta puff fingers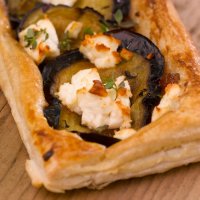 Crumbly feta with juicy aubergine in easy-to-make pastry, with an added kick from onion marmalade/chutney
What you need:
1 x Jus-Rol™ Puff Pastry Sheet
1 aubergine - sliced
Olive oil for drizzling
4 generous teaspoonfuls red onion chutney/ marmalade
100g feta cheese
Few sprigs fresh thyme
Beaten egg to glaze
What you do:
Preheat oven to 220°C (200°C for fan assisted) 425°F/Gas Mark 7
Lay aubergine slices on a baking tin, drizzle with olive oil and scatter with a little thyme, roast for approx 15 minutes until just tender, cool.
Unroll pastry sheet and cut into 4 equal strips. Lay pastry pieces on a lined baking sheet and spread 1/2tsp of chutney down centre of each, leaving a good border all round.
Top each with overlapping aubergine slices and crumbled feta, brush borders with beaten egg and bake for 10 – 12 minutes, scatter with remaining thyme before serving.
This page can be found at: http://secretsauce.co.uk/vegetarian/pastry-recipes/aubergine-feta-puff-pastry/
A short link can also be used: http://bit.ly/haxHZX
Jus-Rol

Jus-Rol is the UK's pioneering pastry company, committed to providing the highest quality chilled and frozen pastry products. The product range includes ready rolled pastry sheets in both puff and shortcrust pastry, pastry blocks, as well as individual puff pastry rounds, large shortcrust pastry cases and handy pie lids.
More from Jus-Rol

A delicious, fruity dessert - the best in comfort food and just mouth-watering served with a big dollop of creamy custard

This chicken, pesto and spinach tart looks so delicious it seems a shame to cut into it! But once you do, don't expect it to be there for long!

A delicious quick and easy open tart, perfect for a summer lunch or picnic
Popular in pastry recipes

Forget the traditional Cornish pasty, this sweet potato, smoked cheese and squash version is twice delicious!

Grab some Jus-Rol pastry and use up all the cherry tomatoes and onions you've got left at the end of the week!