Sweet potato, squash & smoked cheese pasties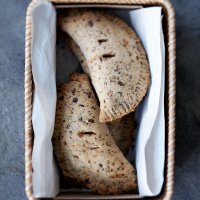 Forget the traditional Cornish pasty, this sweet potato, smoked cheese and squash version is twice delicious!
Makes: 6
What you need:
450g/1lb Allinson Wholemeal Plain flour
pinch of salt
125g/5oz chilled butter, cubed
100g/4oz chilled white vegetable fat, cubed
400g/14oz butternut squash, halved, seeds removed and chopped
400g/14oz sweet potatoes, peeled and chopped
2 tbsp olive oil
150g/6oz Bavarian smoked cheese, cubed
6 sprigs of fresh sage, torn
What you do:
Preheat the oven to 200ºC/Fan 180ºC/ Gas mark 6. Sift the flour into a processor, add the salt, chilled butter and white vegetable fat. Pulse together until the mixture forms crumbs. Add 5-6 tbsp cold water and pulse until the mixture almost combines.
Turn the dough onto a lightly floured surface and knead for a few seconds until it forms a smooth firm dough. Wrap in cling film and chill for 30 mins.
Put the squash and the sweet potatoes into a large roasting tin. Drizzle over the olive oil and season with salt and freshly ground black pepper. Roast for 30 mins until the vegetables are tender.
Divide the pastry into 6 and roll out each piece thinly on a lightly floured surface to a 20cm/8inch round.
Spoon the vegetables, cheese and sage onto one half of each round.
Brush the edges of the pastry with water, then fold the uncovered side over to make the pasties. Press the edges firmly together to seal and crimp them. Make a slit at the top of each pasty.
Put onto a greased baking sheet and bake for 25 mins until the pastry is firm and golden.
This page can be found at: http://secretsauce.co.uk/vegetarian/pastry-recipes/sweet-potato-squash-cheese-pasty/
A short link can also be used: http://bit.ly/fnOl0l
Baking Mad

Baking Mad - with recipes and baking ideas, it's the place for everything you ever wanted to know about baking.
More from Baking Mad

Just look at the fantastic colour of the icing on these fairy cakes - and there's not a hint of food colouring in sight

The longer you soak the fruit for these Christmas cakes, the better the flavour will be. Then make the cake a few days before for a moisty gorgeous spongy texture. Heavenly!

Fruity and delicious, this cake's a real winner and easy to make too!
Popular in pastry recipes

Crumbly feta with juicy aubergine in easy-to-make pastry, with an added kick from onion marmalade/chutney

Grab some Jus-Rol pastry and use up all the cherry tomatoes and onions you've got left at the end of the week!