Pan-grilled mushroom salad with sea salt & garlic toasts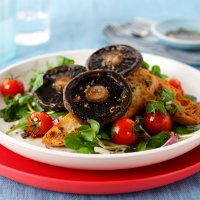 Top food writer Alastair Hendy says: "Mushrooms are Monday's fast food; you have to do little to them or with them to make a very good and easy supper. Keep it simple, the soft woodland mushroom flavour will do all the tricks needed. If you must, parmesan shavings added on serving will spruce it up further. Mondays should be flexible, so add what fits your mood."
Preparation: 10 mins
Cooking: 8 mins
Serves: 4
What you need:
3 fat cloves garlic, crushed
2 sprigs thyme or rosemary, leaves only, lightly crushed
olive oil and virgin olive oil
1 small baguette, sliced on a long diagonal
Sea salt and black pepper
8-12 large flat mushrooms, depending on size
2 tbsp+ balsamic vinegar
Big handful cherry tomatoes
4 handfuls watercress or rocket
1/2 red onion, finely sliced in to rings
What to do:
Mix 2 of the crushed garlic cloves and bruised herb leaves with 3tbsp olive oil. Arrange the baguette slices across a baking tray, brush with the flavoured oil, and sprinkle with sea salt. Bake in a 190C oven until crisped and golden - about 10 minutes.
Salt and pepper the mushrooms, then brush them liberally all over with oil. Heat a wide frying pan until hot, then add the mushrooms, cap side down. Sear gently for about 8 minutes or until cooked through, and turning once. Scatter the cherry tomatoes over the pan between the gaps and sear for 30 seconds. Add the remaining crushed garlic and the balsamic vinegar and bubble up, for about 30 seconds. Arrange the flat caps on the toasts set over 4 plates.
Toss the seared tomatoes with the salad leaves and red onion, and lightly dress with good virgin olive oil and a touch more balsamic vinegar. Pile on to the mushrooms and serve.
Nutritional info:
The watercress compliments the mushrooms well in this salad as they are both a good source of iron, potassium and folate. Folate is an important vitamin for women who are in the early stages of pregnancy or planning a pregnancy. The watercress and cherry tomatoes also provide the antioxidants vitamin C and beta-carotene needed to boost immunity and protect against heart disease and cancer.
This page can be found at: http://secretsauce.co.uk/vegetarian/mushroom-recipes/pan-grilled-mushroom-salad/
A short link can also be used: http://bit.ly/gpRuuN
Mushroom Bureau

Not only are mushrooms inexpensive and versatile, they are also satisfying, delicious and nutritious. Their succulent and unique meaty taste adds depth and gives a balanced flavour to dishes, making them a scrumptious meat substitute.
More from Mushroom Bureau

Actress Tamzin Outhwaite is a great fan of mushrooms - she loves this recipe for a quick, delicious and healthy stroganoff - perfect for a week-night

This delicious spaghetti dish is ready in under 15 minutes and you could serve it cold for a packed lunch the next day!

These little mushroom pies look so impressive but are really easy and quick to make.
Popular in mushroom recipes

These little mushroom pies look so impressive but are really easy and quick to make.

The perfect quick dish - the combination of garlic, mushrooms and cream is taken to another level

Quick and easy to make, these burgers are great for summer barbecues - just add a big dollop of houmous as the finishing touch