Mrs Rodda's Christmas puddings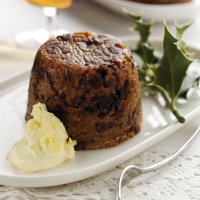 A delicious Christmas Pudding served with a dollop of mouth-watering Rodda's Cornish Clotted Cream
Cooking: 120 mins
Serves: 6
Makes: 6 individual puddings
What you need:
175g raisins
175g sultanas
50ml brandy
50g plain flour
Large pinch ground ginger
¼ tsp mixed spice
Large pinch ground nutmeg
150g suet
100g fresh brown breadcrumbs
100g demerara sugar
25g blanched almonds, chopped
¼ grated eating apple
¼ grated carrot
1 tsp orange marmalade
2 large eggs, beaten
¼ tsp almond essence
50ml milk
What you do:
Grease 6 x 175g dariole or pudding moulds and line the base with a circle of baking parchment.
Mix the dried fruit together and pour over the brandy. Cover and soak overnight.
Mix all the dry ingredients together along with the mixed fruit, grated carrot, apple and marmalade. Beat in the egg, almond essence and milk and mix well. Transfer to the dariole or pudding moulds and cover each with a circle of baking parchment. Cover with foil.
Put the moulds in a large pan of boiling water and cover, steam for 2 hours topping up with water during the cooking time. Serve with a generous dollop of Rodda's Clotted Cream.
Alternatively, make one large pudding by using a 1.2 litre pudding basin and steaming for 5-6 hours.
This page can be found at: http://secretsauce.co.uk/cakes-desserts/christmas-recipes/mrs-roddas-christmas-puddings/
A short link can also be used: http://bit.ly/gs16yH
Rodda's Cornish Clotted Cream

Cornish Clotted Cream is one of the few British foods to have been awarded the accolade of a PDO. This Protected Designation of Origin recognises and protects the uniqueness and distinctiveness of our cream. More important still is the expertise of the
Rodda
family who, for over a century, have been distilling the best of Cornwall into a single mouth-watering treat: Cornish Clotted Cream.
More from Rodda's Cornish Clotted Cream

The perfect quick dish - the combination of garlic, mushrooms and cream is taken to another level

Use whatever fruit is in season - raspberries, strawberries, blackberries - and indulge in this delicious fruity pavlova

Perfect for handing around with a bit of mulled wine, or maybe after a spot of carol singing, these Cornish rum Nickys will certainly warm you up
Popular in christmas recipes

This simple Christmas cake recipe makes a moist, delicious cake with a wonderful mixture of rich and fragrant tea-soaked fruits

The longer you soak the fruit for these Christmas cakes, the better the flavour will be. Then make the cake a few days before for a moisty gorgeous spongy texture. Heavenly!

This is a great way to finish off Christmas cake or as an alternative to Christmas pudding.