Mediterranean vegetables, mozzarella & pesto pittas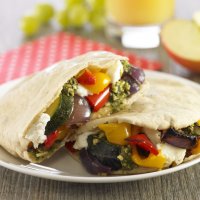 A delicious pitta filled with roasted vegetables of your choice that would be perfect for either lunch or dinner.
Preparation: 8 mins
Cooking: 30 mins
Serves: 2
What you need:
1 red and yellow pepper, roughly chopped
1 red onion, quartered
1 courgette, cubed
Seasoning
1 tbsp rapeseed oil
2 Mission Cracked Black Pepper Pitta Breads
1 tub fresh pesto
8 mozzarella pearls or a few slices
Garnish with basil leaves
What you do:
Place the vegetables on a baking tray, season and drizzle over the oil.
Bake at 180 C for 30 minutes or until the vegetables are soft.
Sprinkle the pitta breads with a little water, warm through and split.
Fill with the roasted vegetables, mozzarella and pesto.
Garnish with some freshly torn basil leaves.
The filled pitta breads are delicious eaten hot or cold.
This page can be found at: http://secretsauce.co.uk/vegetarian/mozzarella-recipes/mediterranean-vegetables-and-mozzarella-pittas/
A short link can also be used: http://bit.ly/19WiEN7
Mission Foods

If you're looking for the authentic Mexican-American taste of tortillas, wraps and tortilla chips, you can't make a better choice than Mission Foods
More from Mission Foods

These are a perfect alternative to a tradtional sandwich for kids during the summer holidays!

A tasty warm pitta option, best served with a light greek salad.

These energy wraps make a great lunch - they're packed with slow-releasing carbohydrates and energy-releasing B vitamins to keep you going longer
Popular in mozzarella recipes

Melted mozzarella and spicy salsa make perfect appetisers for guests, or just add a salad and you've got a lovely lunch!

These moreish mini cheese and tomato pizzas are ideal for sharing and take just five minutes to make...