Toasted bruschetta with salsa & mozzarella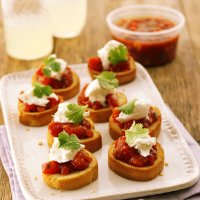 Melted mozzarella and spicy salsa make perfect appetisers for guests, or just add a salad and you've got a lovely, filling lunch!
Prep: 10 mins
Cook: 10 mins
Makes: 12
Per serving
Energy (kcal) 85
Fat (g) 5.6
of which saturates (g) 1.6
Total sugars (g) 0.6
Salt (g) 0.34
What you need:
Half a baguette
4 tbsp olive oil
1 (200g) pot of fresh Salsa dip
1 (100g) mozzarella cheese
Coriander leaves to garnish
What you do:
Preheat the oven to 170C/Fan 150C/325F/Gas Mark 3. Slice the bread into about 12 (15mm) thick slices; discard the end pieces. Lay the slices in a single layer on a large baking sheet.
Drizzle half of the olive oil over the top side of the bread, turn over the slices and drizzle over the remaining oil.
Bake the bread for 10 mins until it is pale golden and crisp. Remove from the oven and cool slightly.
Arrange the bruschetta on a serving platter then top each with a spoonful of Salsa dip. Tear the mozzarella into small pieces and pop a piece on top of each, finally decorate with coriander leaves. Serve within 10 mins of topping. Great served for a party nibble.
This page can be found at: http://secretsauce.co.uk/vegetarian/mozzarella-recipes/toasted-bruschetta-mozzarella-salsa/
A short link can also be used: http://bit.ly/fK3oTh
Fresh dips
Bakkavor Foods is a leading producer of supermarket own-label dips.
More from Fresh dips

Spice up a simple tomato soup recipe with chilli and paprika, then serve with a dollop of sour cream and chive dip and warm crusty bread

It's always a struggle getting your five a day but this recipe counts as 2 portions per serving. Don't forget the houmous and mint dip as a delicious side dish

This is a cheats' recipe for a classic Spanish tapas dish. Potatoes topped with spicy tomato and chilli sauce, the name literally means fierce potatoes
Popular in mozzarella recipes

A delicious pitta filled with roasted vegetables that would be perfect for either lunch or dinner.

These moreish mini cheese and tomato pizzas are ideal for sharing and take just five minutes to make...