Hummous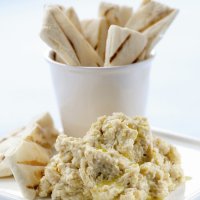 A perfect dish for a packed lunch, serve with pitta bread or a selection of fresh vegetables crudités
Preparation time: 10 minutes
Serves: 4-6
Per portion:
Cals 182 cals
Fat 11.5g
Sat fat 1.5g
Protein 10.4g
Carbs 16.6g
What you need:
1x 400g can of chick peas, drained
1 tbsp lemon juice
1 clove garlic, crushed
1 pinch ground cumin
2 tbsp tahini
3 tbsp Alpro soya plain alternative to yogurt
A drizzle of extra virgin olive oil
1 pinch ground paprika
What you do:
Place the chick peas, lemon juice, garlic, cumin, tahini and yogurt into a food processor and whizz until smooth.
Top with a drizzle of extra virgin olive oil, sprinkle with ground paprika and serve with pitta bread.
This page can be found at: http://secretsauce.co.uk/vegetarian/greek-recipes/hoummous/
A short link can also be used: http://bit.ly/eLHzHs
Alpro Soya

Alpro Soya creates delicious products for you to enjoy any time of the day. Made from the goodness of the whole soya bean, they are prepared with care and with the utmost respect for people and planet.
More from Alpro Soya

Don't just boil those potatoes - make them a dish in itself with this delicious traditional recipe

Looking for a vegetarian alternative for Christmas dinner? Try this traditional and delicious nut roast

Start the day with this substantial breakfast that will give you enough energy to last until lunchtime
Popular in greek recipes

Sharing plates full of flavour is just what you need when entertaining friends. Use either a mix of herbs or a single one that is readily available.

This is summer in a dish and is ideal for a picnic. Little gem leaves are perfectly formed for scooping so you can use your fingers for this one!