Griddled halloumi & apple wedges with caper, anchovy & herb dressing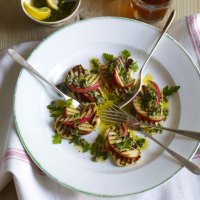 Sharing plates full of flavour is just what you need when entertaining friends. Use either a mix of herbs or a single one that is readily available. Leave out the anchovies in the dressing if preferred A good one for the BBQ just sit a ridged pan on the rack so the pieces of apple don't fall through.
Preparation: 10 mins
Cooking: 10 mins
Serves: 8
What you need:
juice of half a lemon
1/2 tsp Dijon mustard
pinch of salt
freshly ground black pepper
pinch of sugar
6 tbsp extra virgin olive oil
50g anchovy fillets finely chopped plus the oil from the can
3 tbsp small capers drained
1 tbsp chopped fresh mint
2 tbsp chopped flat leaf parsley plus some small whole leaves
3x 250g blocks of Halloumi drained on kitchen paper
Freshly ground black pepper
1 1/2 Pink Lady Apples
1 tbsp of extra virgin olive oil
What you do:
Put the lemon juice in a bowl and mix in the mustard, salt, pepper and sugar. Whisk in the oil a little at a time followed by 1 teaspoon of water, mix in the anchovies and the oil from the can, capers and herbs and put to one side.
Cut each Halloumi into 8 cross ways slices and lay on an oiled tray, scatter both sides with freshly ground black pepper.
Cut each apple quarter into 4 wedges put in an oven proof dish and toss with the oil.
Preheat oven to Gas mark 3/160C/fan oven 150. Heat a ridged grill pan over a high heat (or on a BBQ rack over hot coals) and when you lay on the apple wedges lower the heat a little. Flip them over after about 1 minute (when golden ridge lines appear) to cook the other side. Put them back into the oil and put in the oven to keep them warm.
Rinse the pan and heat again. Cook the halloumi slices in batches in the same way on both sides. As each batch is cooked put back on the tray and put in the oven to keep warm.
To serve put two pieces of apple on top of each Halloumi slice and arrange on 2 large plates, spoon over the dressing and serve while hot. Scatter over the extra herb leaves.
This page can be found at: http://secretsauce.co.uk/vegetarian/greek-recipes/griddled-halloumi-and-apple-wedges/
A short link can also be used: http://bit.ly/Q3yDAn
Pink Lady apples

Pink Lady apples have a distinctive crisp texture and fizzy flavour – similar to champagne. It takes 200 days of tender care and, once ripe, each apple undergoes a rigorous quality control process to ensure that the high standard is kept – only the best apples can become a Pink Lady apple. Pink Lady apples are perfect culinary apples as they retain their texture and unique flavour and little, if any, additional sugar needs to be added.
More from Pink Lady apples

Flapjacks are great for desserts, snacks and even lunchboxes, so make up a tray and watch them disappear!

This wonderfully decadent dessert is perfect to serve at a large family gathering.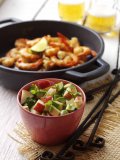 Even when the sun doesn't always shine this tasty, zingy very easy to make Australian recipe will make it seem like it does.
Popular in greek recipes

This is summer in a dish and is ideal for a picnic. Little gem leaves are perfectly formed for scooping so you can use your fingers for this one!

A perfect dish for a packed lunch, serve with pitta bread or a selection of fresh vegetables crudités