Greek feta & griddled pitta salad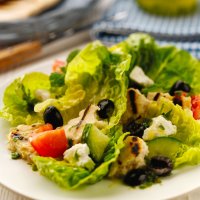 This is summer in a dish and is ideal for a picnic. Little gem leaves are perfectly formed for scooping so you can use your fingers for this one! The salty olives and feta cheese are the perfect balance for sweet, grassy little gem.
Preparation: 10 mins
Cooking: 4 mins
Serves: 4
What you need:
3 pitta bread (200g)
2 tbsp extra virgin olive oil
3 plum tomatoes, cut into wedges (260g)
1/2 cucumber, diced (200g)
50g pitted black olives, halved
1/2 x 25g pack mint
200g pack feta, broken into chunks
Juice of 1/2 lemon
4 whole little gem lettuces, leaves separated (250g)
What you do:
Brush the pittas with a little oil and griddle for 4-5 minutes until golden, turning half way through, tear into pieces.
Mix the tomatoes, cucumber, olives, half the mint leaves and the feta in a large serving bowl.
Whisk the remaining oil with the lemon juice, finely chop the remaining mint leaves and add to the dressing, season. Toss into the tomatoes with the pitta pieces and Little Gem leaves.
Cook's tip:
For extra convenience, try using tubs of cubed feta marinated in oil with olives.
This page can be found at: http://secretsauce.co.uk/vegetarian/greek-recipes/greek-feta-and-griddled-pitta-salad/
A short link can also be used: http://bit.ly/14IVAzB
British Leafy Salads Association

Gone are the days when a salad consisted of no more than a tomato and cucumber with a few leaves on the side. Thanks to the growing, production and distribution cycle and the introduction of many different types of salad leaves which are now grown in the UK, a salad can be a tasty and satisfying meal, a refreshing snack or a sumptuous starter.
More from British Leafy Salads Association

Sweet, earthy beetroot and tangy goats cheese are a classic combination.

Quick and easy to make and full of flavour, this dish will be sure to impress.

Romaine is the leaf for the Caesar salad. Its refreshing crunchy leaves add great texture and the surface of the leaves are perfect for holding the dressing.
Popular in greek recipes

Sharing plates full of flavour is just what you need when entertaining friends. Use either a mix of herbs or a single one that is readily available.

A perfect dish for a packed lunch, serve with pitta bread or a selection of fresh vegetables crudités