Gino D'Acampo's warm Bellaverde broccoli with mint and goat's cheese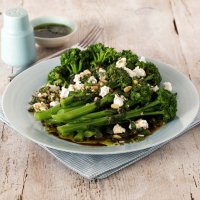 Who better than one of our favourite celebrity chefs to show us how to make a fantastic meal in under 10 minutes flat?
Preparation: 5 mins
Cooking: 4 mins
Serves: 4
What you need:
400g bellaverde® broccoli
1 garlic clove
6 fresh mint leaves
60ml/4tbsp extra virgin olive oil
30ml/2tbsp balsamic vinegar
100g/4oz goats cheese
45ml/3tbsp pine nuts, toasted
salt and freshly ground black pepper
What you do:
Wash the bellaverde and trim the base of the spear. Cook in a saucepan with salted boiling water for 4 mins until just tender. Drain and then rinse in cold water to cool slightly, then, drain again.
In the meantime finely chop the garlic and the mint together and place in a large bowl. Pour in the oil and the balsamic vinegar and mix until well combined.
Add the warm bellaverde to the bowl with the dressing. Season with salt and pepper and toss all together until evenly coated. Place on a serving plate. Crumble over the goat cheese and scatter over the pine nuts and serve.
This page can be found at: http://secretsauce.co.uk/vegetarian/goats-cheese-recipes/gino-dacampos-warm-bellaverde-broccoli-with-mint/
A short link can also be used: http://bit.ly/gTxonl
Bellaverde Broccoli

If you're looking for broccoli with a unique, sweet taste which is not only a versatile ingredient but is equally delicious when eaten on its own, then look no further than Bellaverde.
More from Bellaverde Broccoli

Packed full of goodness, this pasta dish will have your family well on their way to their five a day!

A tasty oven bake which is great as a midweek family meal

Steak and Hollandaise sauce is always a crowd-pleaser, just add some Bellaverde broccoli and the meal's complete!
Popular in goats cheese recipes

Have you ever had savoury panna cotta? This one's a fantastic started and served with sweet and sour tomatoes and cashew biscuits

A delicious quick and easy open tart, perfect for a summer lunch or picnic

Sweet, earthy beetroot and tangy goats cheese are a classic combination.