Steak with Bellaverde & basil Hollandaise sauce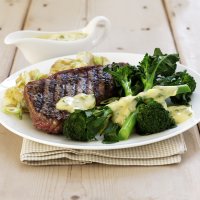 Steak and Hollandaise sauce is always a crowd-pleaser, just add some Bellaverde broccoli and the meal's complete!
Preparation: 10 mins
Cooking: 25 mins
Serves: 4
What you need:
350g/12oz new potatoes
4 (150g) sirloin steaks
15ml/1 tbsp + 5ml/1tsp olive oil
2 spring onions, finely sliced
400g Bellaverde broccoli
50g/2oz butter
1 large egg yolk
10ml/2tbsp lemon juice
2 tbsp of fresh basil leaves, chopped
salt and freshly ground black pepper
What you do:
Cook the potatoes in boiling salted water for 10-15 mins or until tender. Whilst they cook, heat a griddle pan. Rub 5ml/1tsp of olive oil over both sides of the steaks and season with salt and pepper.
Prepare the bellaverde® by washing and trimming a little off the end of each spear. Bring a large pan of lightly salted water to the boil.
To make the hollandaise: Melt the butter in a small pan. Place the egg yolk in a blender and with the motor running, slowly pour in the hot butter, then blend until the mixture thickens. Stir in the lemon, basil and salt and pepper to taste.
Cook the steaks on a hot griddle pan for 10-12 mins or until cooked to your liking.
Meanwhile, cook the bellaverde® in boiling water for 3 mins or until just cooked. Drain well in a colander. Keep warm.
Drain the potatoes, return to the pan then lightly crush them with a fork, stir in 1tbsp of olive oil, spring onions and plenty of seasoning.
Divide the potatoes between four plates, then arrange the steaks and a few bellaverde® spears on each, spoon over the hollandaise and serve.
Cook's tip:
Bellaverde broccoli takes just three minutes to cook with nothing being wasted, it can all go into the pan. An 80g serving counts as one of your 5-a-day and contains just 26 kcals.
This page can be found at: http://secretsauce.co.uk/meat-poultry/steak-recipes/steak-with-basil-hollandaise-sauce/
A short link can also be used: http://bit.ly/eBI2nd
Bellaverde Broccoli

If you're looking for broccoli with a unique, sweet taste which is not only a versatile ingredient but is equally delicious when eaten on its own, then look no further than Bellaverde.
More from Bellaverde Broccoli

Packed full of goodness, this pasta dish will have your family well on their way to their five a day!

A tasty oven bake which is great as a midweek family meal

Who better than one of our favourite celebrity chefs to show us how to make a fantastic meal in under 10 minutes flat?
Popular in steak recipes

A juicy, tender steak with a traditional peppercorn sauce and an added chilli kick, ready in just 10 minutes

To celebrate its 35th birthday this year, Beefeater has released four exclusive and, until now, secret recipes using four of their most popular sauces so you can recreate the ultimate steak eating experience at home

To celebrate its 35th birthday, Beefeater has released four exclusive and, until now, secret recipes using four of their most popular sauces so you can recreate the ultimate steak eating experience at home