Gino D'Acampo's zesty Bellaverde broccoli & courgette spaghetti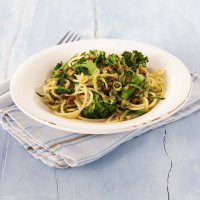 Packed full of goodness, this pasta dish will have your family well on their way to their five a day!
Preparation: 10 mins
Cooking: 18 mins
Serves: 4
What you need:
2 courgettes, trimmed
200g bellaverde broccoli
450g/1lb dry spaghetti
90ml/6tbsp extra virgin olive oil
25g/1oz walnut pieces, roughly chopped
zest of a lemon
a pinch of dried chilli flakes
salt and freshly ground black pepper
60ml/4tbsp freshly grated Parmesan cheese
What you do:
Coarsely grate the courgettes then place them in a clean tea towel and squeeze dry. Meanwhile, wash the bellaverde® and prepare by trimming the base of the spear. Chop in diagonal slices about 3cm long with the leaves.
Heat the oil in a large frying pan, add the courgettes and fry for 7 mins on a medium heat. Stir occasionally. Add in the bellaverde®, chilli flakes, walnuts and lemon zest and continue to cook for a further 3 mins. Season with salt and stir.
In the meantime cook the pasta in a large saucepan of salted, boiling water for 8-10 mins or until just tender and 'al dente'. Drain in a colander. Add the spaghetti to the frying pan and toss all together on a medium heat for 30 secs. Serve immediately with Parmesan cheese on top.
This page can be found at: http://secretsauce.co.uk/pasta-rice/broccoli-recipes/gino-dacampos-zesty-broccoli-spaghetti/
A short link can also be used: http://bit.ly/eOMsOY
Bellaverde Broccoli

If you're looking for broccoli with a unique, sweet taste which is not only a versatile ingredient but is equally delicious when eaten on its own, then look no further than Bellaverde.
More from Bellaverde Broccoli

A tasty oven bake which is great as a midweek family meal

Steak and Hollandaise sauce is always a crowd-pleaser, just add some Bellaverde broccoli and the meal's complete!

Who better than one of our favourite celebrity chefs to show us how to make a fantastic meal in under 10 minutes flat?
Popular in broccoli recipes

A tasty oven bake which is great as a midweek family meal

A wholesome and colourful pasta recipe, perfect for the whole family to enjoy