Courgette & goat's cheese fritatta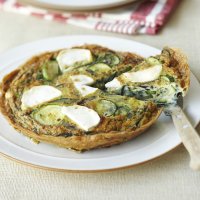 A great-tasting, simple dinner option that's easy to make and tickles the tastebuds!
Preparation: 30 mins
Cooking: 15 mins
Serves: 2
What you need:
2 medium courgettes
1 red onion
60g Cœur de Lion La Buche goat's cheese
Handful of fresh basil leaves shredded
6 eggs
Olive oil
Salt and pepper
What you do:
Slice the courgettes and red onion and add to a small non-stick frying pan with some olive oil. Fry over a medium heat for 10 mins to brown and soften the courgettes and onions.
Whisk the eggs, basil and half of the goat's cheese, roughly chopped. Season to taste.
Add the mixture to the non stick frying pan along with the courgettes and onions. Using a wooden spoon move the mixture around until set on the bottom, top with slices of the remaining goat's cheese and place under a hot grill.
Grill until puffed and golden. Slice and serve along with salad.
This page can be found at: http://secretsauce.co.uk/vegetarian/frittata-recipes/courgette-and-goats-cheese-fritatta/
A short link can also be used: http://bit.ly/hVu6UL
Coeur de Lion

Delicious range of authentic French cheeses. Cœur de Lion was born from the creation of a camembert so creamy and tasty that its unique recipe was patented. This camembert was so popular with consumers that Cœur de Lion started producing other soft cheeses, including Le Brie, Chaumes, La Buche, Chavroux, Crème de Brie and Pie d'Angloys. Cœur de Lion is part of a family run French cheese company founded by Jean Noel Bongrain in 1956. Now run by the second generation, the company is passionate about only making authentic and delicious French cheese.
More from Coeur de Lion

Bored of traditional cheese on toast? Step it up a gear with delicious brie, packed full of flavour

Mouth-watering home made burgers with an even more mouth-watering topping

A great dish which is simple to make, guaranteed to impress your other half
Popular in frittata recipes

A frittata is like a savoury cake or big omelette and this delicious mushroom and rocket version has been devised by celebrity chef Gino D'Acampo. Serve it in slices warm or cold with a nice crisp salad.

This is a great recipe for using up leftovers and it's ready in just 25 minutes so a good one to choose for your evening meal

A frittata might not strike you as the most interesting of recipes, but this one is a frittata exception with its unique North African flavours